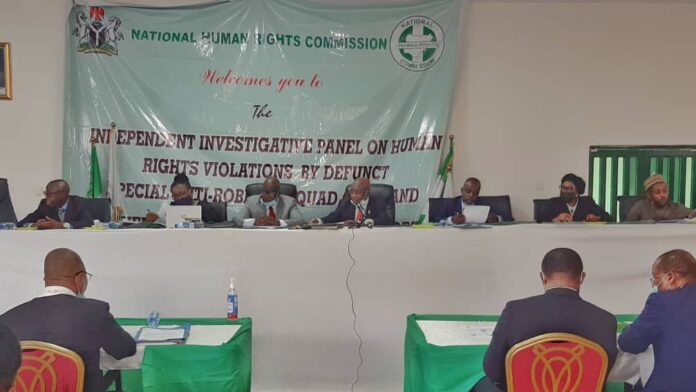 A coalition of activist groups, under the aegis of #EndSARS United, has asked President Muhammadu Buhari and Babajide Sanwo-Olu, governor of Lagos, to resign over the findings of the Lagos judicial panel.
Last week Monday, the panel submitted two documents — a consolidated report on cases of police brutality and another on the Lekki shooting incident — to Sanwo-Olu.
But the document on the Lekki shooting was leaked to the media hours later.
In the report, the panel said the "killing of unarmed protesters by soldiers on October 20, 2020 could be described in the context of a massacre".
Ogunlana said it is against the "principle of natural justice for the governor to sit as a judge over his own case".
"We are convinced beyond doubt that the military personnel who carried out the massacre at the Lekki tollgate could not have acted without clearance from the president of the Federal Republic of Nigeria and commander-in-chief of the armed forces, general Muhammadu Buhari (retired)," Ogunlana said.
"We place the blame of the Lekki massacre at the doorstep of General Buhari and demand his immediate resignation.
"In the light of the panel report, the crucial question to ask is: can Mr. Babajide Sanwo-Olu, the governor of Lagos state, be absolved of any portion of blame in the events that led to the Lekki massacre and its aftermath?
"We are of the candid view that while it may be argued that as governor of a state, Mr. Sanwo-Olu does not have maximum control over military personnel up to the extent of the capacity of the commander-in-chief of the armed forces, the overwhelming evidence presented before the panel and the findings of the panel has shown that as the chairman of the Lagos state security council, he influenced the processes that led to the dispatch of soldiers to the Lekki tollgate to fire live bullets at unarmed and innocent protesters.
"We hold that he stands indicted and he should resign immediately.
The group also called for the "immediate dismissal, arrest and prosecution of S.O. Bello and Godwin Umelo for their role in the Lekki massacre as senior military officers".