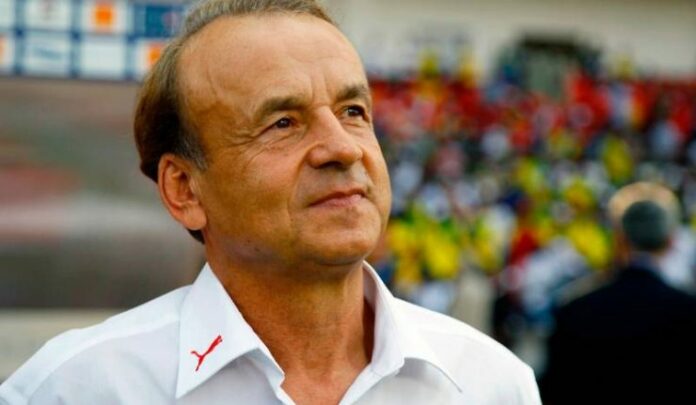 Gernot Rohr, was Super Eagles coach, he is one of the few managers to have coached the Nigerian National Football Team (also known as the Super Eagles) and achieved a reasonable amount of success with them.
Rohr replaced Sunday Oliseh in August 2016. But unknown to many, the German tactician was a former footballer who played as a defender for the French club Bordeaux.
He also played for several other clubs including German clubs Bayern Munich, SV Waldhof Mannheim, and Kickers Offenbach.
Age
Gernot Rohr was born on June 18, 1953, in Mannheim, West Germany.
 Early Life
He was raised and received his early education in his hometown.
During his early childhood, he was heavily involved in sports which led him to pick a career in professional football.
Career
He started playing professionally in 1972 and retired in 1989.
During his 17-year professional football career, Rohr played in more than 400 games with most of his appearances being for the French club Bordeaux, where he played in 360 matches and scored 13 goals.
Gernot Rohr's managerial career began in 1996, a couple of years after his retirement from professional football.
He managed several clubs during the period of his managerial career until February 2010, when he was assigned to the Gabon National Football Team.
Ever since, he has managed several national football teams including Niger National Football Team, Burkina Faso National Football Team and the Nigerian Football Team.
Rohr was announced as the manager of the Super Eagles of Nigeria in August 2019, on a 4-year contract.
His time as the manager of the Nigerian Football Team began quite well as he was able to win his first game in charge of the team and lead the team to the 2018 World Cup in Russia after defeating Zambia to qualify for the tournament.
Until March 2019, Rohr has managed 8 football clubs and 4 national football teams.
He was assigned the position of a Youth coordinator to German club RB Salzburg in July 2005 until October of the same year.
He was also the Sporting Director of E. Frankfurt from October 1998 to April 1999.
Sack As Super Eagles Coach
The decision to sack the Franco-German gaffer was taken after a company associated with the senior National team of Nigeria, agreed to pay the termination clause in the contract of the coach.
The Chief Whip of the Senate and former Governor of Abia State, Senator Orji Uzor Kalu, has said Super Eagles Coach, Gernot Rohr is not good and should be replaced.
Net Worth
According to DailyPost, Rohr was, prior to the 2018 World Cup in Russia, named the 24th highest paid manager among the 32 coaches who were able to qualify for the tournament.
Africanfootball.com reports that Rohr pockets a whopping sum of $47,000 per month as Super Eagles Technical Adviser.
Converted to the Nigerian local currency, Gernot Rohr salary is over N18 million which is N13 million more than what the previous manager Sunday Oliseh received while in charge of the team.
While many football lovers would claim that the amount is outrageous compared to what was paid to previous managers of the team and the performance of Rohr since he began his managerial duties, it is worthy to note that Rohr isn't the highest-paid manager in Africa.
In fact, he comes in third behind Egypt's Hector Cuper and Morocco's Herve Renard.
Due to his long managerial career and the high sum he receives after being signed as the coach of the Nigerian National Football Team in 2016.
Rohr is believed to have amassed a tremendous amount of net worth which is estimated to be more than $1.5 million.