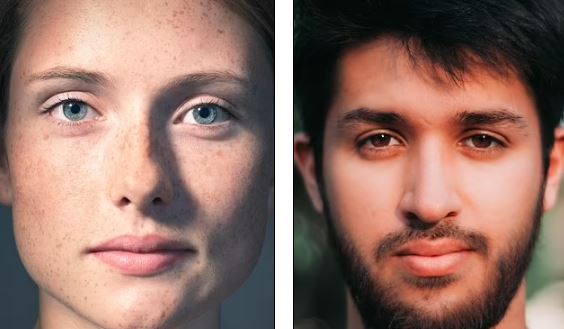 Blue-eyed women are the most attractive to men on dating apps, while men with hazel eyes receive the most matches from female singletons, a new study has revealed.
The research, conducted by UK contact lens supplier Lenstore, was carried out by creating profiles for a male and female model on Bumble, Tinder and Hinge.
The colour of their eyes was digitally modified, with researchers measuring the number of matches each one received. All other aspects of their profile remained the same.
Results showed men with darker coloured eyes were the most appealing to women. Meanwhile men were most attracted to women with blue eyes.
Speaking to FEMAIL, UK experts explained why these two colours might be the most appealing – and delved into the science behind why people might find themselves drawn to specific eye colours.
SEXUAL TENSION IS REVEALED THROUGH THE EYES  
Chris also claimed that 'the eyes are the most expressive feature of the face' and are often deemed attractive as they're a way of telling whether someone is sexually attracted to you.
'You can tell whether a person is sad, happy, sincere, or lying through their eyes', he said. 'This is one of the reasons why it holds so much impact when it comes to attraction.
'It also helps a lot in building sexual tension. Just by looking at a person's eyes, you can find hints whether mutual attraction is possible as well as emotional compatibility.'
Which eye colours got the most matches on dating apps?
Most attractive to women:  
Hazel
Purple
Black
Blue
Brown
Green
Most attractive to men:  
Blue
Brown
Green
Hazel
Black
Purple