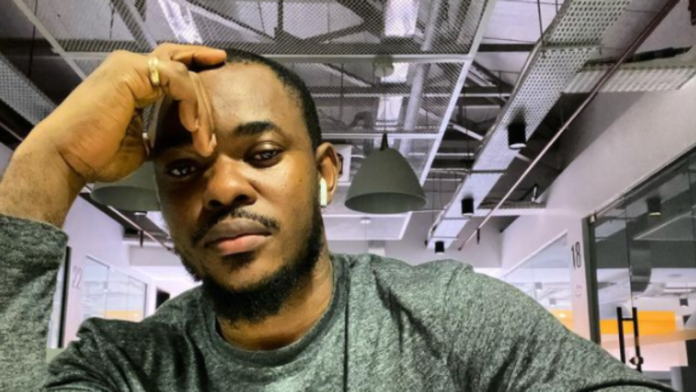 Chizom Echehieuka, the Nigerian techpreneur, is in a sex chat scandal on Twitter with a female scholarship beneficiary.
Chizom founded Code Hub Africa Tech, an online training and mentorship programme for tech enthusiasts.
On October 31, he had announced a coding project for which he called young programmers to enroll.
Chizom had also charged Don Jazzy, the Nigerian record producer, to sponsor 100 people as a gesture of youth empowerment.
Dear @DONJAZZY
Please would you like to sponsor 100 Nigerian youths to learn how to code at our online mentorship program (Code Hub Africa Tech).
It's 15k per person.
Thank you.

Please tag Rihanna's boyfriend if you want to be part of this sponsorship.

— Chizom (@chizom_) October 31, 2021
Ok boss. Just sent 1.5Million Naira to your Vbank account. ❤️ https://t.co/SFL4v3hk5r

— I AM A MAVIN (@DONJAZZY) October 31, 2021
But yesterday, a chat between Chizom and a female Nigerian seeking the scholarship surfaced online.
In the chat, Chizom appeared to be flirting and asking to meet with the lady who sought information regarding the scholarship.
Permission to call out granted. @chizom_ can you please explain why you are propositioning sex to a 22 year old woman who simply reached out for more details on the tech scholarship offered by your school @CHAfrica_Tech?

— Moe (@Mochievous) November 17, 2021
Shortly after he was called out on Twitter, Chizom took to his page to break his silence with an apology.
He also claimed that he has never asked anyone "sex in exchange for my tech service."
I am broken at the events I have caused.
This hurts me that I have hurt a lot of people and my sponsors.
Twitter has helped me grow, learn, be impacted and help to contribute to others.

I am deeply sorry because this hurts me that I messed up as a Husband, friend, creator,

— Chizom (@chizom_) November 17, 2021
I have never asked for sex in exchange of my tech service.
That information is false.

— Chizom (@chizom_) November 17, 2021