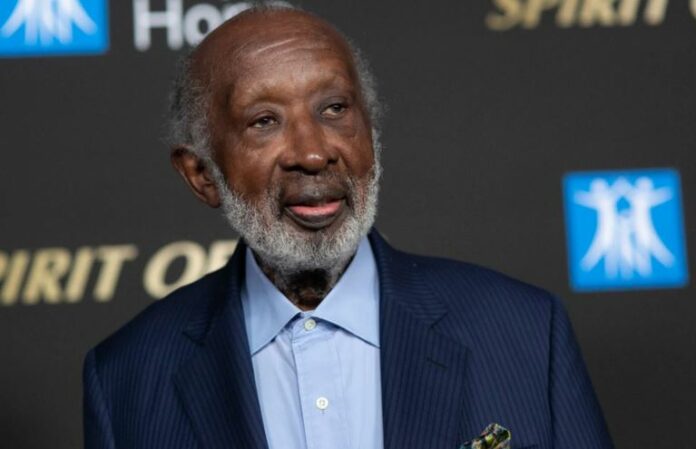 Clarence Alexander Avant (born February 25, 1931) is an American music executive, entrepreneur, and film producer, who also goes by the name of "The Black Godfather
Age
He is 90 years old
Career
Music executive Clarence Avant was born on February 25, 1931 in the small town of Climax, North Carolina. He went to school through his junior high years in a one-room school house before attending James B. Dudley High School in Greensboro, North Carolina. At the age of sixteen, Avant decided to move to New Jersey to live with his aunt and cousin. He began working as a manager at Teddy P's Lounge, owned by Teddy Powell, where he met the blues artist Little Willie John. Little Willie John was so impressed by Avant that he asked him to be his road manager, and more clients soon followed. In 1967, Avant helped sign William Stevenson with MGM, engineering the first joint venture between an African American artist and a major record company with the incorporation of Venture Records, Inc into MGM Records in California.
Avant was known in the business world as a great deal-maker, and in 1968, Al Bell enlisted his help to sell Stax Records to Gulf & Western. The deal was finalized for $4.3 million. The next year, Avant founded Sussex Records and bought the KAGB-FM radio station in 1973, both ventures closed in 1975. However, Avant had realized his passion for the music business and founded Tabu Productions in 1976. In 1987, Avant helped to promote Michael Jackson's first solo tour which grossed $125 million. He was named Chairman of the Board of Motown Records in 1993. One year later, Avant worked with a group of other notable African American investors to create a $20 million investment partnership in South Africa called New Age Beverages. New Age partnered with PepsiCo to build a bottling plant in South Africa, which would be completely run by South Africans.
Avant, along with Quincy Jones, received the Thurgood Marshall Lifetime Achievement Award in 1997. He was awarded an honorary doctorate from Morehouse College in 2003 and received the Living Legends Foundation Award in 2007. In 2010, he was inducted into the NAACP Hall of Fame. He has become known as the "Godfather" in the music business because of his willingness to aid newcomers in the industry. Through his mentoring, many of these people have become very successful and prestigious leaders in the business. Avant currently lives with his wife, Jacqueline, in Beverly Hills, California.
Awards
On February 10, 2008, the National Association of Recording Arts and Sciences awarded him the Trustees Award. On October 7, 2016, Avant received a star on the Hollywood Walk of Fame for his contributions in the recording industry, located at 6363 Hollywood Boulevard, next to Jimmy Jam and Terry Lewis' star.
In February 2018, Avant received the President's Merit Award as a Grammy Icon at the Clive Davis Pre Grammy Gala in Los Angeles. On May 12, 2021, the Rock and Roll Hall of Fame announced that Avant received the Ahmet Ertegun award and will be inducted to the 2021 class. Fame. People, including previous inductee Withers, Vice President Kamala Harris and former President Barack Obama spoke about Avant's impact in a video package.
Death Of Wife
Avant married Jacqueline "Jackie" Alberta Gray in 1967. The couple have two children, former United States Ambassador to the Bahamas Nicole Avant (born March 6, 1968) and Alexander Du Bois Avant (born August 3, 1971). Jackie Avant served as president of the Neighbors of Watts, the support group for the South Central Community Child Care Center in 1975, entertainment chairman of the NOW benefit auction and dinner dance, and chairwoman of NOW membership in 1974. She was also on the board of directors of the International Student Center at UCLA.
On November 30th, 2021 Jacqueline Avant was killed during a home invasion of the couple's Beverly Hills home. She was 81 years old
Net Worth
Clarence Avant is an American music executive and film producer who has a net worth of $50 million dollars.