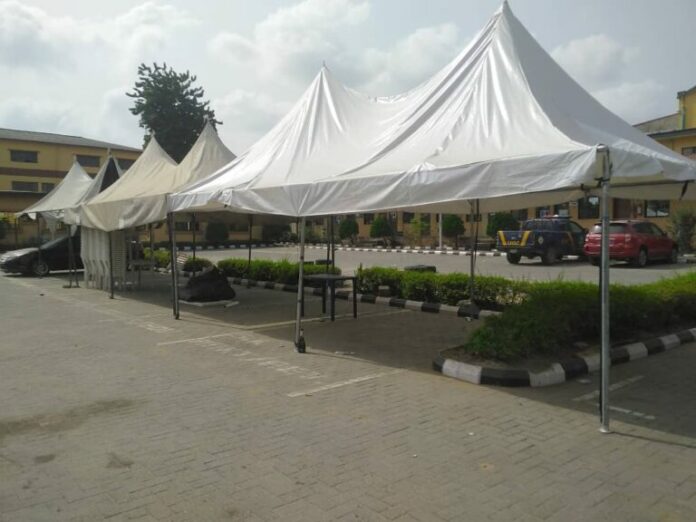 Lagos state sample collection centres on holiday despite COVID-19 surge (Photos)
 Amid the surge in infections as the country battles a fourth wave of COVID, sample collection centres across Lagos — which currently has the highest cases nationwide — are on holiday in what appears to be in the spirit of the festive season.
This is despite concerns on the new Omicron variant and the general increasing case count, with Lagos recording over 1,500 new infections between December 24 and 27, according to data from the Nigeria Centre for Disease Control (NCDC).
At the Infectious Disease Hospital (IDH), Yaba, yesterday, patients were seen at the isolation wards but the designated sample collection centres were empty, with no personnel on site.
The tables and chairs under the pavilion were coated in dust, indicating days of absence.
An enquiry from the security guard established that the personnel in charge of the centres are "on holiday for Christmas" and wouldn't resume until Wednesday.
When newsmen visited the centre at Ifako-Ijaiye, meant to be at the LGA's mini stadium, there was no activity there. The reporter then headed to the Ifako health centre for further information and was told that the official taking COVID samples "is not available" and "won't be on seat until next week".
Upon sensing the urgency for the test, one of the nurses told the reporter "to go to a private hospital and do it".
In Ikeja, it was discovered that both centres at the LGA are also "on holiday".
At the Mushin centre, newsmen found the place quiet, and the security guard on duty didn't have information on when last the centre was open. He, however, said work would continue on Wednesday.
At the Kosofe centre, it was learnt that COVID sample collection had been suspended as a result of the festive period.
Speaking on the development, an official of the NCDC who didn't want to be named said the observation was "surprising", adding that the centres should be active to take samples considering the surge in the number of cases in the state.
He, however, added that the Lagos ministry of health has "jurisdiction over such matters".
Newsmen contacted Bosun Ogunbanwo, director of public affairs of Lagos ministry of health, but he's yet to respond to questions as of the time of filing this report.