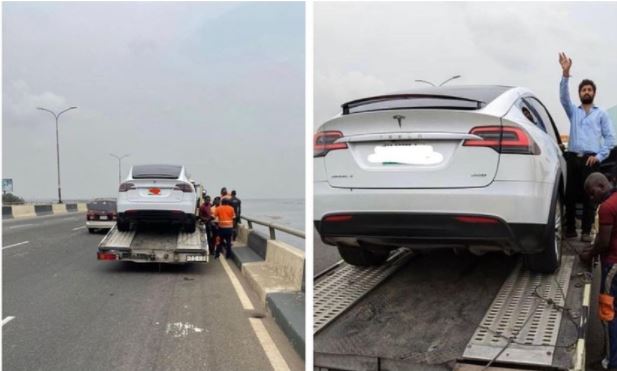 Photos of the Tesla car that packed up on Third Mainland Bridge + See how Long it Takes to Charge a Tesla

Photos of a Tesla car which packed up on Third Mainland Bridge in Lagos, has gone viral after being shared online.
Twitter user, @oku_yungx claimed that the electric car's battery got weak on the bridge.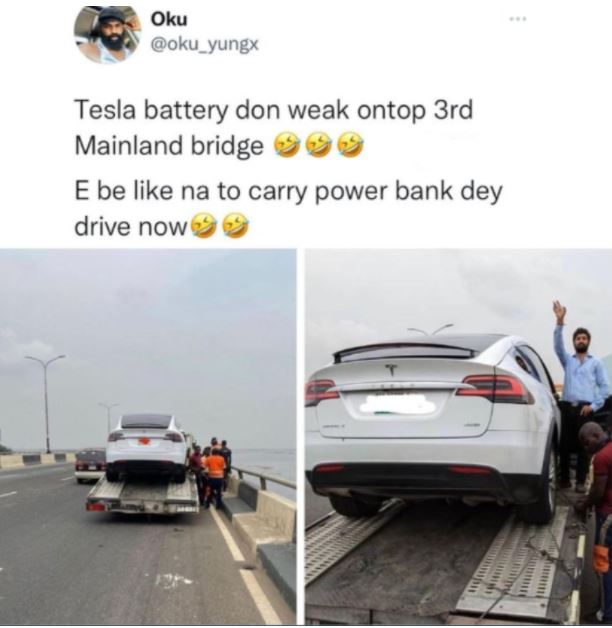 How Long Does it Take to Charge a Tesla?
The NEMA 14-50 charger for Tesla electric cars plugs into a 240 volt wall outlet, similar to the type used by your clothes dryer or other appliances. A standard Tesla charger with a NEMA 14-50 connector will be able to charge your Tesla battery completely in 10 hours (for the Model S) to 10 ½ hours (for the Model X)
How long does a Tesla car battery last?
On a single charge, the smallest Tesla battery (in the Model 3) will last for 262 miles. The highest range Tesla offers is 405 miles for one full charge of their Model S battery.
Importantly, these numbers are not always exact, and it is important to always be proactive about charging your Tesla. Some factors that may affect the range your battery will take you are the way you drive, where you're driving (highway versus backroad), and the size/model of your battery.
Similar to the range for a single charge, the lifespan of a Tesla car battery could also fluctuate based on several factors. As a rule of thumb, Tesla batteries have a 300,000-500,000 mile lifespan, the equivalent of 21-35 years based on the average number of miles driven by Americans.
How much does it cost to charge a Tesla?
Electric cars offer significant fuel savings on a day-to-day basis thanks to their efficient use of electricity as fuel. The cost to fully charge a Tesla depends on the car you have and where you live, because electricity prices vary from utility to utility and from state to state. The price to "fill up" a Tesla Model S battery at home ranges from $6.60 (in Washington state) to just over $21.00 (in Hawaii). For a Tesla Model X, prices will range from $6.70 (Washington) to nearly $22.00 (Hawaii).