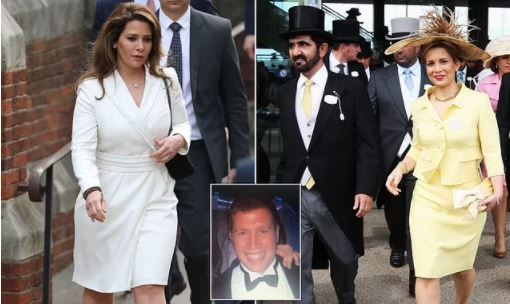 Princess Haya is awarded £554MILLION in Britain's biggest ever divorce settlement to protect her from ex, Sheikh Mohammed Al Maktoum
The ex-wife of the ruler of Dubai has been awarded £554m in Britain's biggest ever divorce settlement.
Princess Haya bint Hussein will receive a lump sum payment of £251m as part of a 'clean break' from one of the world's richest men, Sheikh Mohammed Al Maktoum, the High Court announced today.
The bulk of this will cover security costs to keep the princess and the two young children she had with the sheikh, Jalila, 14, and Zayed, 9, safe from kidnap.
The prince must also provide a £290m HSBC bank guarantee for his children underpinning an £11m annual maintenance payment, as well as ongoing security costs for them as adults, £3m to cover their education and £9.6m in maintenance arrears.
Lawyers for the princess had argued tight security was needed to keep her and the children safe from her ex-husband. At a previous High Court hearing, Sheikh Mohammed was found on the balance of probabilities to have forcibly returned Princesses Latifa and Shamsa – his daughters with another one of his at least six wives – to Dubai when they attempted to flee the UAE.
In another bombshell today, the judgement revealed how Princess Haya alleged that she had paid out £7million to 'blackmailers' on her security staff to keep secret her affair with her British bodyguard, Russell Flowers, which led to the breakdown of her marriage.
Mr Justice Moor declared in a 73 page judgement that there was a 'clear and ever-present risk' to the princess and her two young children and that Sheikh Mohammed was the 'main threat to her'.
The £554m figure awarded by Mr Justice Moor at the Family Division of the High Court dwarfs the previous highest settlement of £450m made in 2016 to the ex-wife of Russian oligarch Farkhad Akhmedov.
While the award will allow the princess to continue to live in the life of luxury she enjoyed as the sheikh's sixth wife, it is £900m less than what her lawyers had originally demanded.
Sheikh Mohammed – a close friend of the Queen over their mutual love of horse racing – was also found to have had his agents 'hack' the phones of his ex-wife and her lawyers, including Baroness Fiona Shackleton.