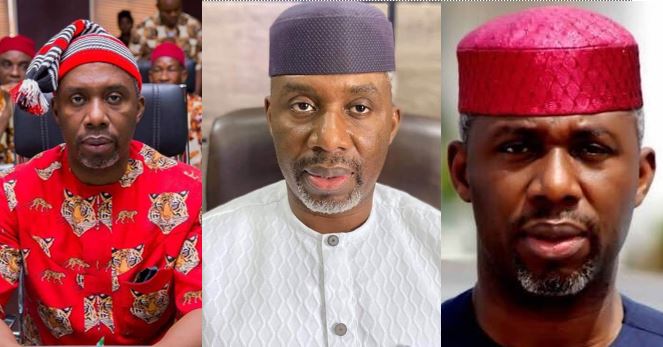 Uche Nwosu Biography – Age, Career, Family, Wife And Net Worth
Uche Nwosu is a Nigerian politician an former Deputy chief Of Staff to the Imo State Government. He occupied this position from 2011 to 2013, then Commissioner for Lands from 2013 to 2015, Chief of Staff to the Imo state Government as fro 2015. He later became the Gubernatorial candidate for the Action Alliance Party (AA) in the 2019 Gubernatorial election.
Early Life
Hon. Uche Nwosu hails from Umunwokwe, Eziama-Obaire in Nkwerre Local Government Area of Imo State. He was born into the family of late Rev. Daniel Nwaobi Nwosu and Mrs. Jemaimah Nwosu. He acquired primary education at the Shehu Sanda Kerimi Primary School, Maiduguri. He attended secondary school at Government Secondary School, Gubia, Borno State and later transferred to Comprehensive Secondary School Eziama-Obaire, Nkwerre where he took his WASC exams. Uche Nwosu gained admission into the Imo State University, Owerri where he obtained a B.Sc second class honours degree in Urban and Regional Planning in the year 2000.
He became the SUG Director Of Transport due to his love for humanity and passion at the Imo State University.
Career
Hon. Uche Nwosu was the Advocate for the engenderment of Civil Rights of Citizens and giving the common man a sense of belonging. He started his political career as a Special Adviser to the Governor then after that he was appointed commisioner. Uche Nwosu was appointed chief of staff during the regime of Rochas Okorocha being his father in-law.
On 9 March 2019, Nwosu contested for the gubernatorial seat for Imo-State under the political platform of Action Alliance Party (AA). On 11 March 2019, Uche Nwosu lost the contest to Hon Emeka Ihedioha who contested under the platform of of the Peoples Democratic Party (PDP). Uche Nwosu lost the Governorship election as Hon Emeka Ihedioha was announced winner by the Independent National Electoral Commission (INEC).
Family
Uche Nwosu got married to his wife Ulomma Okorocha, the first daughter Owelle Anayo
Rochas Okorocha
, the former governor of Imo State in January 2013 and the marriage is blessed with 3 sons.
Net worth
He is reportedly worth about $2 million