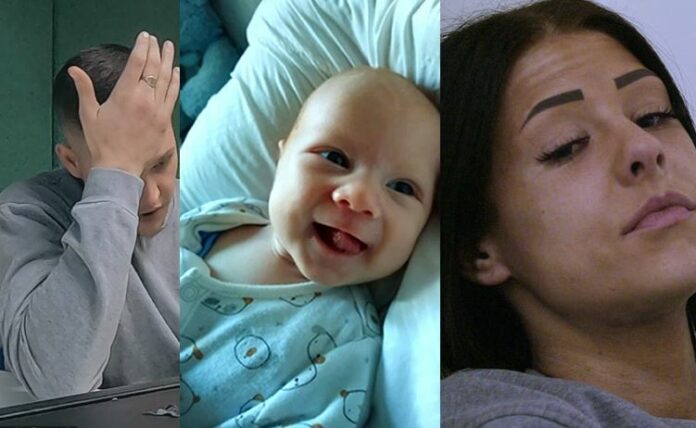 Baby murderer Kane Mitchell who killed his girlfriend's 11-week-old son sobbed after being told he wasn't the baby's biological father
A baby murderer sobbed on camera after being told he wasn't the biological father of his girlfriend's 12-week-old son, whom he was arrested for killing.
Kane Mitchell, 31, of St Neots, Cambridgeshire, was jailed for a minimum of 18 years for murdering baby Teddie, who died in hospital on November 11, 2019, after ten days on a life support machine.
A four-week trial at Cambridge Crown Court heard that Teddie had suffered injuries consistent with being 'gripped hard', 'shaken vigorously', and 'having his head struck against a hard surface'.
Meanwhile Kane said: 'My kids just f***** died, I've got a bail hearing tomorrow and I've got you two f****** at my door. I'm sick of this s***.'
Meanwhile a teary Lucci separately told another officer that nothing had happened, adding: 'It's taking the p*** now!'
He told her he could see 'marks around her neck' and asked if that might be why they had been called to the flat, but she said: 'It's probably my tan. He hasn't even touched me. There hasn't been no arguing here.'
Meanwhile the officers went on to visit some of the neighbours, many of whom said they'd been left 'scared' of Kane after hearing arguin from the flat.
Police returned to the flat, where they arrested Kane for domestic violence and common assault, but Lucci defended her partner.
She said: 'You are not arresting him. I'm not saying here tonight on my own before bail. No – he hasn't done anything. You're not taking him anywhere.'
Meanwhile Kane exclaimed and began screaming at the police officers: 'You ain't go no proof. I ain't done f*** all. There's nothing on her, if anything I've got marks on me. This is f****** ridiculous.'
DI Lucy Thompson, of the Major Crime Unit, told the camera: 'Lucci, we have good strong evidence to show she is a victim of abuse from Kane.
'But she is not taking any of the opportunities to acknowledge she is a victim of abuse. It would be quite unusual for us to say, you are a victim and we know you are a victim.
'We can suggest that but if someone is in denial, they won't see it or accept that.'
Kane was brought in for a police interview, with officers questioning the state of his relationship with Lucci, but he insisted: 'It's very verbal. I don't like having a row or an argument and then sitting down.
'I need 10 minutes to reflect and to get out and defuse the situation so it doesn't escalate by her either lunging for me and me having to lunge back.
They recited one message exchange in which Kane had questioned why Lucci should be visiting the park with one of their children's friend's parents.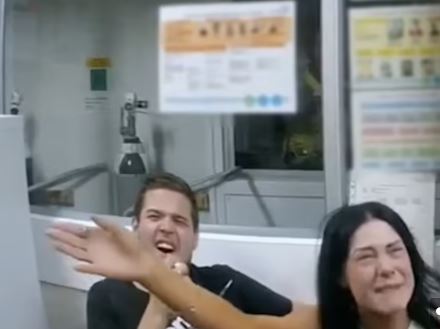 One of the texts read: 'Answer me , you don't understand you s*****. I've swore on my mother's ashes that unless you tell me Ross' second name before you are home, I'm beating you you simple.
'Unless you tell me, I promise you, I'm going to have to take you in the bedroom and do you in. Please listen to me, I'm actually going to have to do it.'
However Kane insisted it was 'just a threat' and he said: 'I've never ever touched her.'
And during the interview, the officer said she wanted to discuss Teddie's biological father.
She said: 'We have had some DNA profiling back and the profiling has come back that you are not Teddie's father.' He could be seen putting his hand to his face as he appeared to cry after the revelation, before saying: 'I feel sick.' Later police said they had had to be 'very careful' with how they had interviewed him because he was 'on a knife edge' of 'exploding.' Meanwhile DI Thompson said she wanted to give Lucci an opportunity to acknowledge she was a victim of domestic violence.
Kane Mitchell, 32, was jailed for a minimum of 18 years for murdering baby Teddie