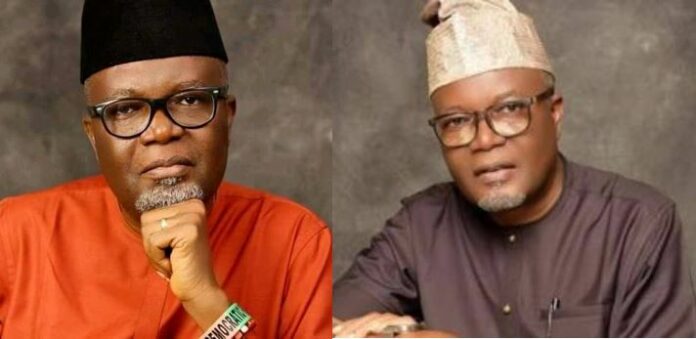 Bisi Kolawole Biography – Age, Career, Ekiti Governorship Aspirant And Net Worth
TSB News reports that Bisi Kolawole, from Efon Alaaye in the Ekiti Central Senatorial District, was a former House of Assembly member from 2007 to 2011 and Commissioner for Environment under the administration of Fayose between 2015 and 2018. He is one of Ayo Fayose's closest allies and the former Governor's anointed candidate in the upcoming Governorship poll in 2022.
Age
Bisi Kolawole is said to be in his late 50's or early 60s
Political Career
Bisi Kolawole is a prominent member of the Peoples Democratic Party (PDP), which has an office in Ekiti (PDP). He is a former member of the State House of Assembly, a commissioner, and a former party chairman of the Peoples Democratic Party in Ekiti state, which has led to widespread confidence in his ability to lead the party in the state.
He served as campaign manager for two strong candidates, Dayo Adeyeye and Olusola Eleka, both of whom were elected to the Senate.
Bisi Kolawole has achieved outstanding results in polls in which he has competed on behalf of the Peoples Democratic Party (PDP). It is important to note that in the year 2020, when he ran for the position of Charman of the Ekiti PDP chapter, Kolawole was able to pull 1,651 out of the total of 1,690 delegates who were accredited for the exercise.
He would resign from his Chairmanship position in September 2021 and enter the contest for the governorship position of Ekiti State.
Bisi Kolawole received 671 votes in a primary election for the Governorship position on the 26th of January, while his closest challenger, Segun Oni, received only 330 votes.
Reason For Contesting For Ekiti Governorship Aspirant
If you ask the PDP candidate why he is competing for the coveted seat of power, he will respond as follows, according to 'Yomi Aiyeleso of Tribune News
"I am contesting because we are very familiar with the situation in Ekiti. We know where the shoe pinches because the present APC government in the state has not done enough. People are suffering from no care from the government. The workers and pensioners are being owed as we speak.
The roads and other facilities are bad and dilapidated, and our youths are not being encouraged to go into farming and other opportunities. With me in the saddle, all these will be looked into. Let me tell you that the totality of all these things will make an average Ekiti person comfortable and well.
Don't forget that I am familiar with governance, having been a member of the House of Assembly, and a commissioner in the state. All these are important. The people are not asking government to make them millionaires. They just want to be comfortable. Provide adequate social services to them. The totality of all I have said is one of the reasons that have prompted me to go all out for it, and by the grace of God, with experience and support of the people, the situation will improve."
Emergence as Ekiti PDP candidate
It was more or less a landslide victory at the primary election for Otunba Bisi Kolawole, as he made yet another great outing at the election.
Seventeen aspirants – Kolawole, Segun Oni, Senator Biodun Olujimi, Prof. Kolapo Olusola, Mrs Olumide Olubunmi, Kayode Adaramodu, Adewale Aribisala, Yinka Akerele,  Ogunsakin Ayodeji, Alhaji Lateef Ajijola, Mrs Arogundade Olutoyin, Princess Adekemi Adewunmi from Efon, Mrs Cecillia Ebiesuwa, Mrs Adewumi Adesoye, Mrs Titilayo Owolabi, Mrs Modupe Asaolu and Mrs Deborah Alo – participated in the election.
Kolawole polled 671 votes to clinch the party's governorship ticket. Segun Oni emerged the second runner-up with 330 votes. other includes Kemi Adewunmi 1 vote, Deji Ogunsakin 6 votes, Kayode Adaramodu 10 votes, Kolapo Olusola Eleka 93 votes, Wale Aribisala 56 votes
The chairman of the primary election committee and governor of Akwa State, Udom Emmanuel, while kicking off the election said: "It is our expectation that this Ekiti State primary election will be seamless at the time it is completed. We hope to see that the Ekiti State chapter of the PDP elects a widely acceptable flagbearer."
According to him, the candidate should be able to make the 'umbrella' stronger and win the upcoming governorship election in June.
See full result below;
Adekemi Adewumi — 1 Vote
Olujinmi —2 Votes
Olumide Ojo —- 1 Vote
Ajidola — 1 Vote
Ayodeji Kazeem —6 Votes
6 Kayode Adaramodu —- 10 Votes
Olusola Eleka Kolapo —- 93 Votes
Adewale Aribisala — 56 Votes
Segun Oni —- 330 Votes
Bisi kolawole — 671 Votes
Candidate of the former governor of Ekiti State, Ayodele Fayose, Chief Bisi Kolawole, was last night declared winner of the primary election of the Peoples Democratic Party (PDP) held yesterday to fly the party's flag in the June 18 governorship election in the state.
Net Worth
His net worth is not available at the moment.