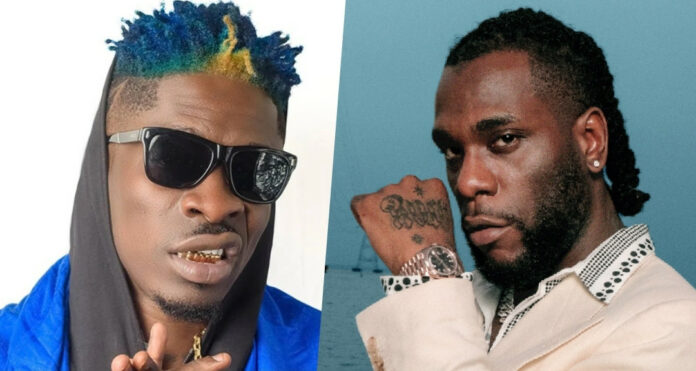 Burna Boy withdraws from face-off as Shatta Wale tackles his parents
Burna Boy, the Nigerian singer, has withdrawn from his ongoing face-off with Shatta Wale, his Ghanaian counterpart.
The pair have been at loggerheads since Wale dissed Nigerian artistes whom he said failed to reciprocate the support they got from Ghana.
Burna Boy had earlier slammed him over his remark and challenged him to a one-on-one fight.
But Wale, who accepted the challenge, had dared him to a freestyle battle instead — a suggestion which did not sit well with the 'African Giant' crooner.
"I'm sorry everyone. I don't do this type of shot. Fighting a pig will only have you dirty, the pig is used to dirt. I really let this pig get to me. But I promise, this is the last time I will ever allow myself stoop to this level," he wrote via his Instagram Stories yesterday.
"I sincerely apologise to everyone. I will not be seeing social media at all this year. I'm out. See you all in real life."
In a series of tweets, however, Wale fired back at the Nigerian singer and accused him of being disrespectful.
The Ghanaian singer also detailed how he helped Burna Boy and his mother when they were faced with challenges.
When you were on the run ,who hosted you and your mother And your ashawo South African girl friend ..wu maame tw3 kwraaaaa in Ghana !! Kwasiaa boy like you !!

— SHATTA WALE (@shattawalegh) January 1, 2022
Remember my mother doesn't control my career ,,I run my own shit ,street way ,so if your mother deh watch u diss me today and she go forgot I saved your ass up when police was all over you in naija ..Then she toooo dierrrr …no wonder I don't know your father…

— SHATTA WALE (@shattawalegh) January 1, 2022