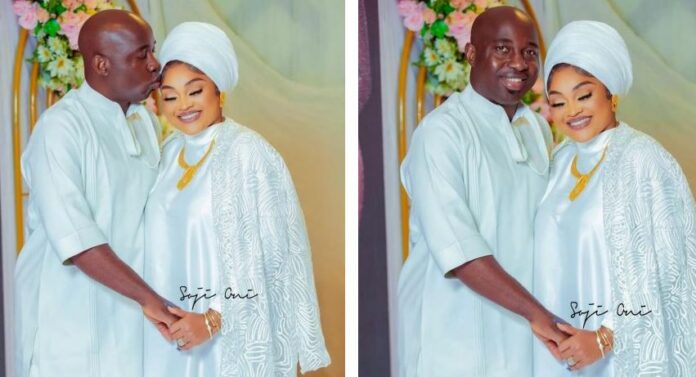 Details Of Mercy Aigbe's Secret Wedding To Kazeem Adeoti Revealed
Nollywood actor, Mercy Aigbe has turned Instagram upside down!
She uploaded the photos of her new husband on Sunday evening and got a barrage of Likes, knocks and congratulations.
Though she didn't mention that she has remarried, the birthday message she sent to her 'best friend' Kazeem Adeoti, a movie marketer/promoter who founded Ibaka TV, says it all.
"It's my Boo's birthday in a bit, Cc @kazimadeoti thank you for being amazing 🙏❤️" she wrote on Sunday evening on Instagram with a lovely photo of the duo,
Today, January 24, 2020, Mercy wrote, "Yeah!!! Finally it's here!!!! Happy birthday to a Great Man, a man of honor, amazing personality!!!!! Your heart is so pure! Selfless in all ramifications!!! An astute business man ( my mentor when it comes to business 🙌), super hardworking, real estate mogul, best movie marketer! My bestie, My reality check, My gist partner! You do so so much for people around you, you are a rare Gem! A very good man, a great partner ! Thank you for being a Pillar, Thank you for being a source of happiness, thank you for your endless support at all times! I am so blessed to have you in my corner 🙏🙏😍
As you add another year today I pray to Almighty Allah to continue to increase you in every area of your life! Grant all of your heart desires, abundant wisdom, more blessings, good health and long life! Atanda, Today I celebrate God's Grace in your life! Happy birthday Ade Omo Ade Alhamdulillah."
Mercy, a mum of two, had separated from Mr. Lanre Gentry, father of her son in 2017.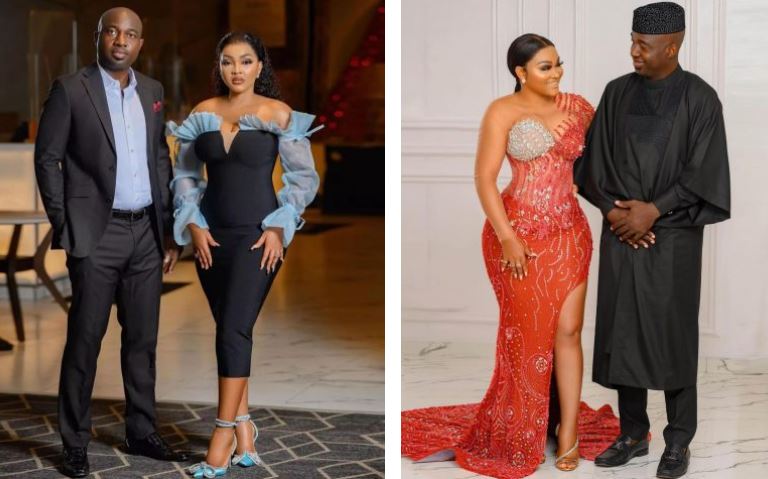 Though the union crashed irretrievably later, the estranged couple would always throw shades at each other on social media especially on Father's and Mother's Days.
By September 2021, Gentry got married to another woman amidst pomp. He even granted interviews stating the many courts his former wife dragged him to in order to set a divorce.
Gentry is Mercy Aigbe's second husband.
Meanwhile, the latest wedding in Nollywood by Mercy Aigbe and Adeoti has been applauded by many artistes who took to the actress's page on Instagram to congratulate her.
Unknown to many of her followers and fans, Mercy had been in the relationship with Adeoti for a while and always tagged herself as Agbeke Aya D'owner.
But  a few of the actress's  close friends in the industry were aware already.
On the 31st of December, 2021 TSB News learned that Adekaz and Mercy had a private Nikkai in Lagos, where she was christened Aminah (which she shortened to Minnah). Only a few people were present at the ceremony. There was also a traditional Engagement ceremony held at the same venue. Officially Mrs Adeoti, an excited Mercy announced the new name to her followers on social media later that day (which was also her birthday eve) with a video of her outfit of the day flaunting her new wedding band. Many of her friends flooded her timelines to congratulate her.
On January 1, 2022 at her house in Ogudu,  Lagos where she hosted friends and family to a soiree, Adeoti aka Adekaz was fully on ground and he played the role of a husband diligently. He was up and about, ensuring that guests had a good time. Also, on January 3, at the New Year dance party headlined by King Wasiu Ayinde Marshall in Lekki, the newlyweds were an item all through the event.
Since she left her ex-hubby, this will be the first time Mercy would be flaunting a man publicly.
But if you think her currently-married ex, Lanre Gentry would be calm about this new union in Nollywood, then you are wrong. Few hours after Mercy's announcement of her 'boo's birthday', Gentry had put up a post on Instagram featuring a throwback photo of himself, Mercy, Adekaz and wife. This insinuated that Mercy must have been sleeping with Adekaz even when he (Gentry) thought Adekaz was a family friend!