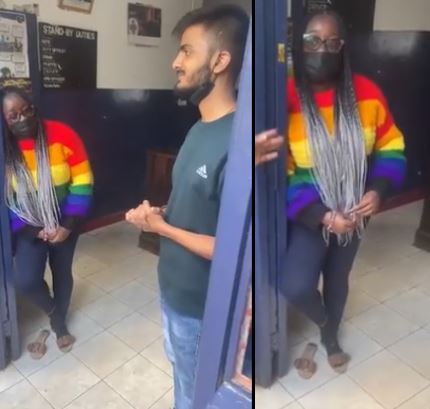 Story Of Nigerian Modupe Omole Who Was Arrested For Violating Visa Laws Of Kenya

The story of Ms Mole has gone viral after she was arrested for allegedly violating visa laws of Kenya. A social media strategist, CBN Gov Akinsola Ak shared the story.
He said Ms Moe was arrested for violating Visa laws of Kenya. He wrote:
UPDATE ON THE ARREST OF A NIGERIAN Ms MOLE BY THE KENYAN POLICE.The issue has been resolved with the Kenyan police.. She was arrested for violating visa laws of KenyaAll charges against her have been dropped as a result of the intervention of the Nigeria Embassy. 1/2
Ms Mole has been asked to write an apology letter to the Kenyan police.
She has also been asked to retweet her initial tweet and clarify the issues alleged against the Kenyan police too.
Ms Moe denied that the story was untrue in response to social media strategist, CBN Gov Akinsola Ak. See her tweet below: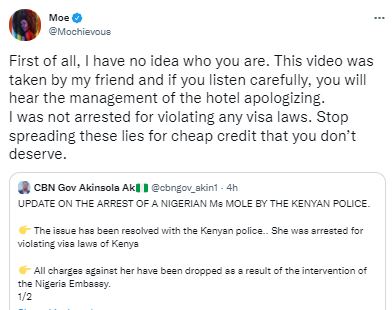 CBN Gov Akinsola Ak responded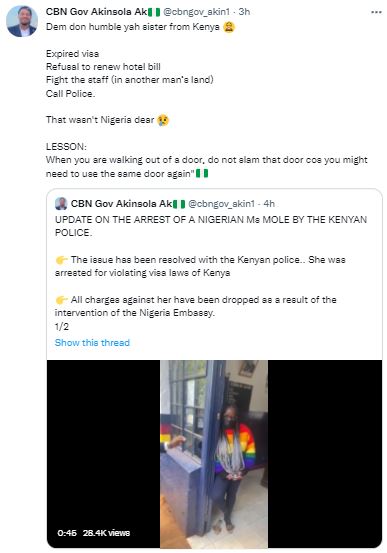 Watch the video below:
UPDATE ON THE ARREST OF A NIGERIAN Ms MOLE BY THE KENYAN POLICE.

👉 The issue has been resolved with the Kenyan police.. She was arrested for violating visa laws of Kenya

👉 All charges against her have been dropped as a result of the intervention of the Nigeria Embassy.
1/2 pic.twitter.com/FbrpFrMUSL

— CBN Gov Akinsola Ak🇳🇬 (@cbngov_akin1) January 3, 2022