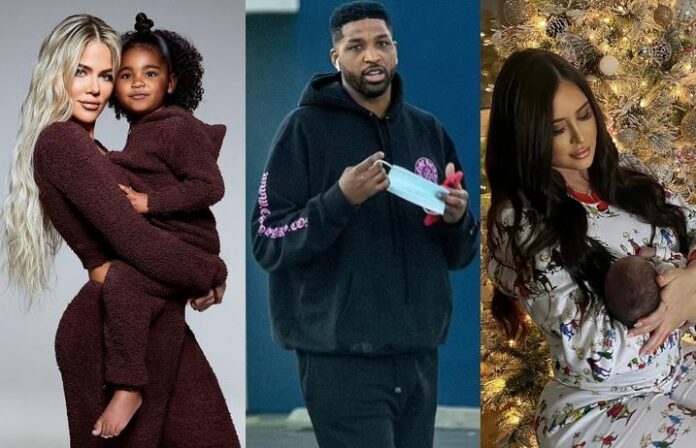 'You don't deserve this' – Tristan Thompson publicly apologizes to girlfriend Khloe Kardashian after paternity test proves he is the father of Maralee Nichols' child
Tristan Thompson has admitted that he fathered a child with personal trainer Maralee Nichols while he was in a relationship with Khloe Kardashian after undergoing a paternity test.
DailyMail.com exclusively revealed details of the paternity battle last month after Nichols filed a lawsuit against the NBA player.
The serial cheater, 30, was pictured leaving the dance class of three-year-old daughter True, whom he shares with Khloe, in Los Angeles on Monday just hours before taking to his Instagram Story to confirm the news.
'Today paternity test results reveal that I fathered a child with Maralee Nichols,' he admitted in excerpt, and added a groveling apology to the 37-year-old reality star, writing: 'You don't deserve this.'
The admission posted to Instagram marked the first time the Sacramento Kings player has publicly acknowledged he's now a father of three.
In addition to his newborn son and three-year-old daughter True with Khloe, he also shares a five-year-old son Prince with ex Jordan Craig.
Tristan shared with his fans on Monday: 'Today paternity test results reveal that I fathered a child with Maralee Nichols. I take full responsibility for my actions.
'Now that paternity has been established, I look forward to amicably raising our son. I sincerely apologize to everyone I've hurt or disappointed throughout this ordeal both publicly and privately.'
Tristan then spoke directly to the Keeping Up With The Kardashians star whom he first started dating in 2016.
He wrote: 'Khloe, you don't deserve this. You don't deserve the heartache and humiliation I have caused you. You don't deserve the way I have treated you over the years.
'My actions have certainly not lined up with the way I view you. I have the utmost respect and love for you. Regardless of what you may think. Again, I am so incredibly sorry,' his statement read.
Maralee, 31, a fitness model, gave birth to a son on December 1 and claimed the child had been conceived while celebrating the NBA pro's birthday in Houston in March 2021.
Court documents obtained in December first revealed that Nichols was suing Thompson for child support as well as for reimbursement of medical expenses and pregnancy-related costs.
However, she subsequently told E! News:  'I did not file any request for child support before our child was born.'
Additionally Nichols filed to submit text messages exchanged between herself and Thompson as evidence for her paternity lawsuit.
It's claimed the texts show the pro athlete had wanted her to terminate the pregnancy, stated he had no plans to be involved in the child's life and had tried to offer her hush money.