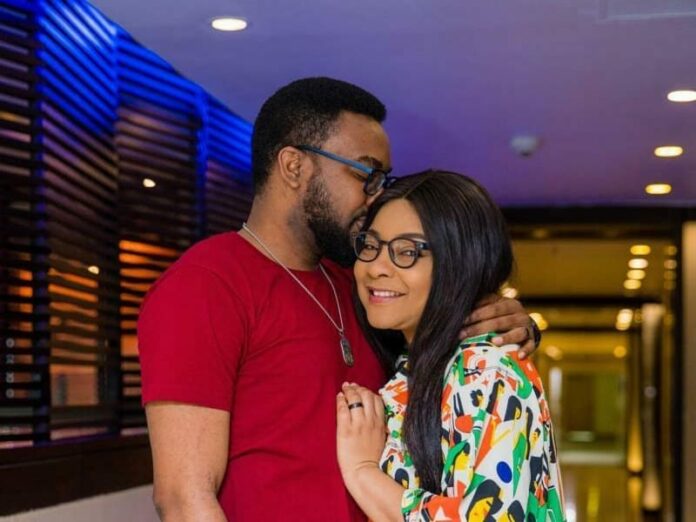 Actor Ibrahim Suleiman Reveals One Of The Wrong Things He Did In His Marriage
Nollywood actor, Ibrahim Suleiman has openly conceded that he did something that was not right in his marriage, however, he does not regret doing it.
Ibrahim Suleiman confessed cohabiting with his partner, Linda before getting married although it was not proper for him to do so.
He made this revelation after a Twitter user reminded Christians that cohabiting with one's partner or lover before actual marriage is wrong.
The post reads: "A subtle reminder that as a Christian, cohabiting with your partner before marriage is wrong."
Responding to the fan, Ibrahim said he is glad he cohabited with his partner even if it was for a few weeks and he strives to be better urging his fans to own their errors and mistakes with their full chest.
Ibrahim Suleiman wrote: This is true. But it is one of the wrong things I'm glad I did even if it was just for a few weeks. lol.
Look, I've never been one to give a false impression of piety. I strive daily to be better. But once in a while… Own your transgressions with your full chest.
---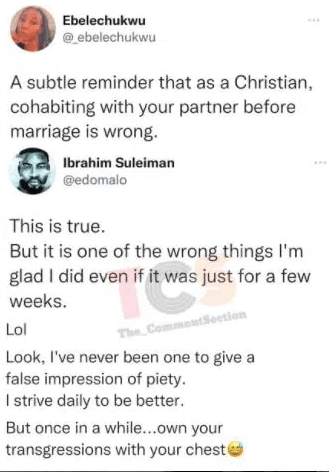 You would recall that a few weeks after their marriage Linda said marrying Ibrahim was the best decision she ever made in her life.
She wrote: How it STARTED, and how its GOING!!! My Nimi…i really do like me better when I'm with you. It's been 3 solid years of this beautiful thing called our love. Sometimes I catch myself in the realisation that you are one of the best decisions I will ever make.