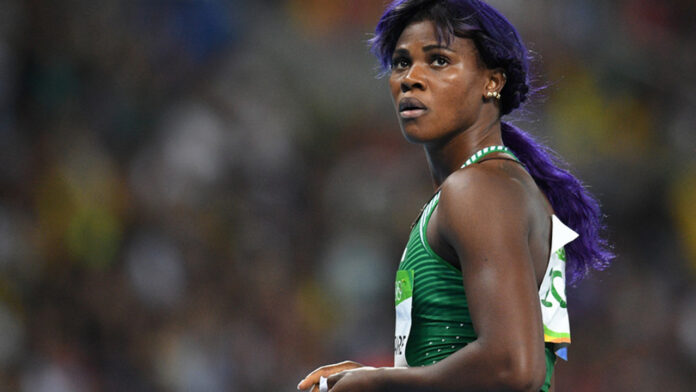 Blessing Okagbare Biography – Age, Career, 10-years AIU Ban, And Net Worth
Blessing Okagbare-Otegheri is a former Nigerian track and field athlete who specialized in Long jump and sprints. She is an Olympic and World Championships medalist in the long jump, and a world medalist in the 200 meters.
Age
She is 33 years old.
Career
Okagbare was born in Sapele, Delta, in Nigeria. Given her athletic physique, teachers and family encouraged her to take up sports. Initially she played football as a teenager at her high school and later, in 2004, she began to take an interest in track and field. She participated in a number of disciplines early on, competing in the long jump, triple jump and high jump events at the Nigerian school championships and winning a medal in each. On the senior national stage, she was a triple jump bronze medallist at the 2004 Nigerian National Sports Festival. Okagbare's first international outing came at the 2006 World Junior Championships in Athletics, where she performed in the qualifying rounds of both the long and triple jump competitions.
In May 2007, at the All-Africa Games trials in Lagos, she established a Nigerian record of 14.13 metres in the triple jump. At the 2007 All-Africa Games she won the silver medal in the long jump and finished fourth in the triple jump. In the latter competition her Nigerian record was beaten by Chinonye Ohadugha, who jumped 14.21 metres.
10-years AIU Ban
Blessing Okagbare was on Friday handed a 10 years ban by the Athletics Integrity Unit for doping violations.
Okagbare was banned for 'five years for the presence and use of multiple prohibited substances and five years for her refusal to co-operate with the AIU's investigation into her case.'
The Athletics Integrity Unit (AIU) pressed charges against Okagbare in relation to separate disciplinary matters in October 2021. First, for the presence and use of multiple (two) prohibited substances (human Growth Hormone (hGH) and recombinant erythropoietin (EPO)) for which she had been provisionally suspended on 31 July 2021, the day on which she had been scheduled to participate in the semi-finals of the Tokyo 2020 women's 100m.
Net Worth
Blessing Okagbare is worth $1 Million dollars.