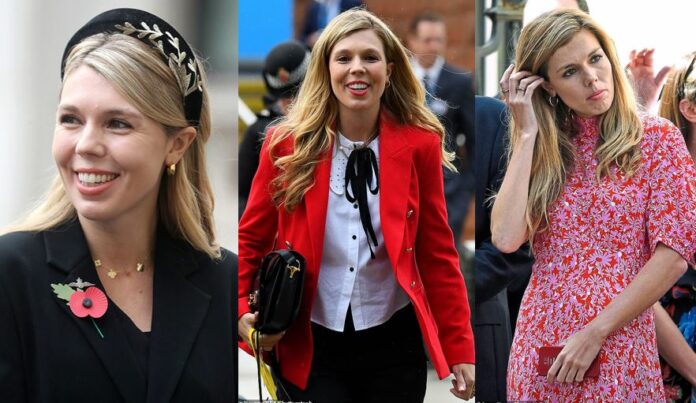 Carrie Johnson Biography – Age, Career, Boris Johnson, Controversies And Net Worth
Caroline Louise Bevan Johnson is the wife of British Prime Minister Boris Johnson.
Before her marriage to the Prime Minister, she was known as a political and climate activist. Previously a Conservative Party media official, she remains a senior advisor to the ocean conservation charity Oceana.
Age
Carrie was born 17 March 1988. She is 33 years old.
Early life and education
Caroline Louise Bevan Symonds was born on 17 March 1988 to Matthew Symonds, co-founder of The Independent, and Josephine McAfee (née Lawrence), a lawyer working for that newspaper. Her paternal grandfather was John Beavan, Baron Ardwick (at one time editor of the Daily Herald and later, during the 1970s, a Labour Party MEP), and her paternal grandmother was Anne Symonds, a BBC World Service journalist.
Symonds was brought up by her mother in East Sheen, South West London, and between 1999 and 2006 attended Godolphin and Latymer School, an independent day school for girls. She went up to the University of Warwick to read Art History and Theatre Studies, graduating as BA (Hons) in 2009
Career and political activism
In 2009, Symonds joined the Conservative Party as a press officer. She worked at Conservative Campaign Headquarters, and later campaigned for Boris Johnson in the 2010 London Conservative Party mayoral selection. She has also worked as a media special adviser for Conservative Cabinet ministers Sajid Javid (Communities, Local Government and Housing Secretary) and John Whittingdale (Culture, Media and Sport Secretary).
Symonds became the Conservative Party's head of communications in 2018 but left the position later that year, taking up a job in public relations for the Oceana project. It was reported that she was asked to leave her post as director of communications after sources said party chiefs had said her performance was poor, and questions were raised over significant unjustified expenses claims. These accusations were, however, rejected by other sources as being a smear campaign based around rumours allegedly spread by Symonds's political strategist, Lynton Crosby.
Mrs Johnson is a Patron of the Conservative Animal Welfare Foundation
Personal life
Symonds was previously in a relationship with British political journalist Harry Cole.
Boris Johnson
She began an affair with British politician Boris Johnson, then HM Foreign Secretary, in 2018 while he was still married to his second wife, Marina Wheeler. In July 2019, Boris became prime minister and both he and Carrie officially moved into the flat above 11 Downing Street. She was the first unmarried partner of a prime minister to reside at Downing Street. The following month, she was barred from entering the United States as her visa application was rejected due to a previous visit with her close friend Nimco Ali to Somaliland, which the US considers to be part of immigration-restricted Somalia. On 16 August 2019, she made her first public appearance since entering 10 Downing Street, when she addressed what she called the "gigantic" climate crisis.
Engagement and marriage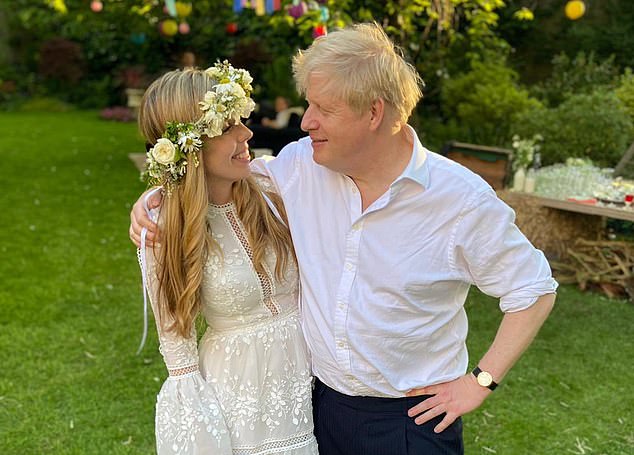 On 29 February 2020, Symonds and Boris Johnson announced that they had become engaged in late 2019. Their son, Wilfred Lawrie Nicholas Johnson, was born on 29 April 2020 in London. She used to be a practising Catholic and had her son baptised into the Catholic Church.
Symonds married Boris Johnson on 29 May 2021 in a secret ceremony at Westminster Cathedral attended by thirty guests. She wore a boho-chic style bridal gown by Greek designer Christos Costarellos. In July 2021, she announced that they were expecting their second child together, also revealing that she had suffered a miscarriage earlier that year. Their daughter, Romy Iris Charlotte Johnson, was born on 9 December in London.
Controversy
There has been reports that Carrie's behaviour  is preventing him from leading UK'.  His colleague from the conservative party is set to release a bombshell biography of Carrie Johnson which portrays the prime minister as his wife's puppet.
According to Lord Ashcroft's account, the frustrations at Mr Johnson's then girlfriend's apparent influence first emerged during his six-week campaign for the Tory leadership in 2019.
It includes claims that Mrs Johnson would use her husband's mobile phone 'to try to direct and control events'.
It even claims that Mr Johnson's aides tried to sideline Carrie by booking taxis to take her to campaign meetings – but then secretly asked drivers to take her on a meandering route.
The book quotes the Prime Minister as telling aides: 'Don't do anything that's going to make her torture me when I get home. You've just got to help me. My life at home's miserable. You've got to find a way to make this bearable for me.'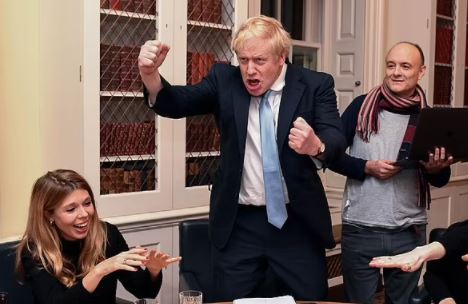 In a series of strongly-worded rebuttals last night, a spokesman for Mrs Johnson claimed the book contained 'vile fabrications' which were 'designed to humiliate and discredit Mrs Johnson', while other stories amounted to 'baseless tittle tattle' and 'offensive nonsense'.
On the claims that Mr Johnson was unhappy in his relationship, the spokesman added: 'Yet more deliberately hurtful smears which are far removed from reality. The opposite is in fact the truth. Mr and Mrs Johnson have a very emotionally supportive relationship.'
Members of the Johnson 'old guard', including former Lynton Crosby ally David Canzini, are now being tipped for a return to key positions. Sir Lynton will advise occasionally on an informal basis.
Mr Johnson spent the day in Downing Street 'hitting the phones' as he embarked on what sources said was a 'wholesale redrawing of the No 10 map'.
The Prime Minister also interviewed candidates for the vacant chief of staff and director of communications roles, and drafted in external consultants to 'work through the night' to restructure his political operation.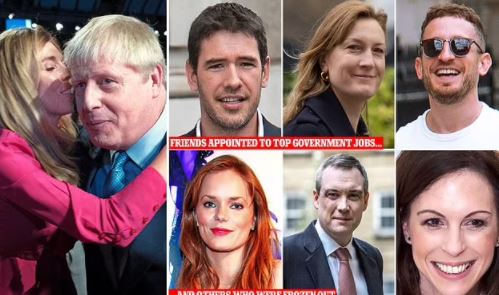 Elena Narozanski quit the No 10 policy unit in the wake of the resignation of policy chief and Johnson ally Munira Mirza, chief of staff Dan Rosenfield, private secretary Martin Reynolds and communications chief Jack Doyle.
A second source adds: 'The problem was she would want to control everything, but she wouldn't work with anyone. There would be a team meeting, something would be decided and Boris would agree it.
'He would go home and tell Carrie everything that'd been decided, and then the phone would ring and it would be him saying, 'We've got to change this, we've got to do that, we're not going to do it like this any more.' '
It has even been alleged that, on occasion, Carrie could be heard whispering prompts to Johnson while these phone calls were in progress.
'It was a very difficult environment to work in,' adds the second source. 'You'd think you'd got things agreed and they'd be second-guessed all the time when they were together alone in an environment to which none of us had access.'
What is more, Carrie also began to insist on a prominent role in the campaign for a friend of hers, Ben Mallett – even, one source claims, to be the campaign chief of staff.
Another source adds: 'One day, Ben Mallett walked in and announced he was now the campaign's chief of staff. We told him politely that this was rubbish.
Net Worth
Carrie has an estimated net worth of about  £80,000.