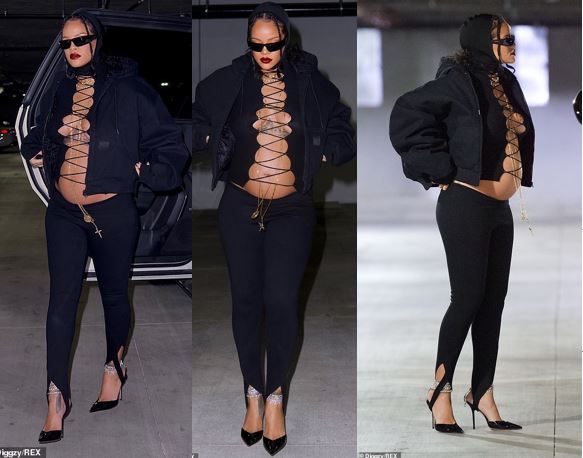 Pregnant Rihanna shows off her blossoming bump in laced top (Photos)
Social media erupted when she broke the news of her pregnancy in a New York photoshoot last week.
And mother-to-be Rihanna, 33, showed off her blossoming bump in a laced-up top and low-waist slit trousers on Sunday night – her first outing since announcing the joyous news.
The Umbrella songstress, who is expecting her first child with boyfriend A$AP Rocky, ensured her appearance was nothing short of exceptional as she forewent a bra and displayed her growing stomach while  stepping out for dinner in Beverly Hills.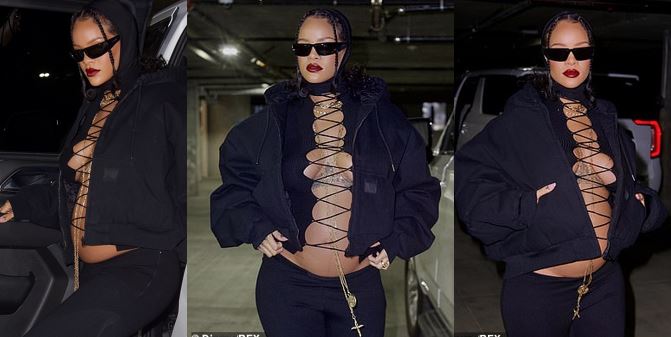 While the A-lister may have kept to all-black attire – including a cropped bomber jacket – she didn't keep things subtle on the makeup front as she touched up her look with a bold scarlet lipstick.
The Barbados-born star, who flashed her large underboob tattoo, framed her radiant face with a pair of black sunglasses and coiffed her tresses in chic braids, further jazzing up her look with a gold cross chain.
She boosted her height with a pair of towering stilettos as she stepped out.
It was claimed over the weekend that Rihanna is set to marry boyfriend A$AP, 33, in her native Barbados after the birth of their baby.