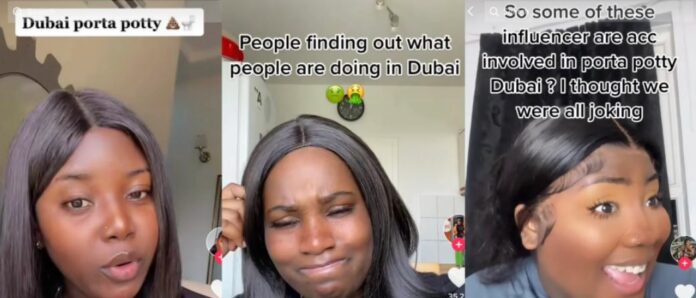 Disgusting Dubai Porta Potty Craze Scars social media users for life

TSB News reports that TikTok users are discovering something called the 'Dubai Porta Potty' which is rumoured to go on amongst influencers and the elite in the United Arab Emirates.
The rumoured practice is sickening and really grossing everyone out on social media
WHAT IS THE 'DUBAI PORTA POTTY'?
Let's start by clarifying that there's absolutely no proof this actually goes on in Dubai, it's merely a rumour that's taken over the internet in April 2022.
The 'Dubai Porta Potty' is rumoured to be something that influencers and other young women do in exchange for money or gifts.
It's pretty disgusting, but the idea says that these woman let others excrete on them to receive bags, shoes and other materialistic items.
Yes, by excrete we mean poop, and wee. Disgusting, right? But rumours say this is what goes on.
According to Urban Dictionary, "expensive escorts" are "bought by rich men" to go on "yacht parties" where they are defecated and urinated on.
According to the videos and social media, it became public that the shitty scene is happening with ladies who are from Africa because they wanted to be rich and never-ending money, however, it is still under the veil who is the one, to be witnessed but an online report says the entire statement where the girl said: "I called out one of my really good and closed friends after seeing her at the Porta-Potty where she was seen wrapped in shit and she told her everything". Continuing the statement she said that the girl about whom she is talking is just 22, she drives a 2011 CL550 and she has owned a condo in Newport Beach, and I think that it is not a bad thing for those girls who are not even graduated and can't make money by using their knowledge but using their body can lead everything in their life, they all are seeking for. Well, stay tuned with us to get more updates on the Porta-Potty Dubai
As per the sources it came to know that an unknown lady who had some dreams to be live like Dubains because she is totally inspired and fascinated by their luxury lifestyles. Well, the girl said that she went to Dubai for a weekend to live like them and one of her friends was paying for her everywhere. Later the lady said that her colleague was one of the high-end escorts who catered to Dubai's wealthy locals. She even stated that she spent a weekend there and was often abused by high society people seeking physical relationships.
INTERNET USERS ARE DISGUSTED
The notion has been taking over TikTok and Twitter over the past week and left social media users horrified.
Apparently, there are also videos of the alleged scheme flooding the internet too, but we wouldn't encourage you to go looking for any.
As from now on, I'm minding my business in this app#dubai porta potty pic.twitter.com/NXYW3A3Niu

— GiftToTheWorld (@Gifancy05) April 28, 2022
Life will never be the same after knowing about this.

DO NOT search Dubai Porta potty. I am traumatised. pic.twitter.com/FPUjnpie4K

— Jason  (@1992sFinest) April 27, 2022
Need to bleach my eyes.
Omg I need bleach! Someone mentioned the Dubai porta potty video and I searched it! Help me Jesus! #dubaiportapotty pic.twitter.com/Nbdx5IfM4d

— Kbirst❄️ (@kbirstlouxoxo__) April 30, 2022

'COMPENSATED DATING' FLOODS TIKTOK
Just last week, the phrase 'compensated dating' was taking over TikTok, and the 'Dubai Porta Potty' scheme links into this idea too.
Compensated dating is a term used to describe the process of young women going on dates with older men in exchange for money or gifts.
These dates often end in sexual activities and the idea is sometimes associated with prostitution, but this isn't always the case.