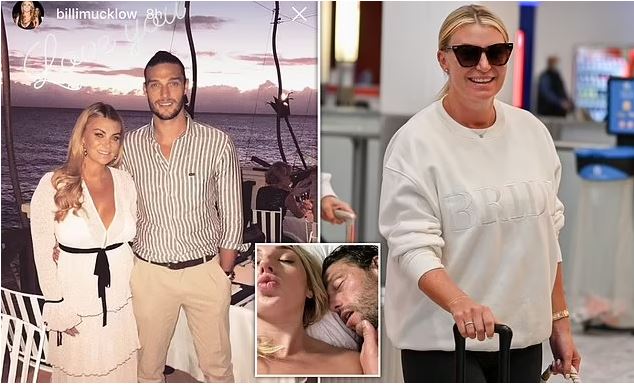 Andy Carroll's wedding to Billi Mucklow still set to go ahead after he was pictured on bed with bar manager two weeks to their wedding
Andy Carroll was pictured asleep on bed next to bar boss Taylor Jane Wilkey in Dubai on Wednesday
Andy Carroll's bride-to-be thinks the footballer is an 'idiot' and has thrown him in the doghouse after he was snapped sharing a bed with another woman.
But ex-TOWIE star Billi Mucklow has no plans to call off the celebrity couple's wedding – unless more emerges.
A friend told MailOnline with her permission: 'Billi thinks he's an idiot, her entire friendship group feel the same.
'They cannot believe he got himself into that situation and are convinced it's a set up.
They added: 'She currently has no plans to call off the wedding, it's still on.
'But if anything else comes out, that might change.
'Andy's certainly in the doghouse, that's for sure.'
The party girl pictured sharing a bed with Andy Carroll broke off her own wedding and jetted off to Dubai to start a new life.
Like Carroll's bride-to-be Billi Mucklow, Taylor Jane Wilkey was carefully planning the final details of her own nuptials less than a year ago.
But to the shock of her fiancé of nine years, garden centre manager Ricky Nock, she cancelled the wedding and flew to the Emirate to start a new life.
Friends of the former couple say Ricky, 35, was left 'shattered' by the sudden end to their engagement. He and his family declined to comment today.
However, a source close to the ex-couple said: 'It all came so suddenly to Ricky, if Taylor had been having doubts it wasn't evident to anyone.

'They were first due to get married in June 2020 but when the pandemic struck they realised they weren't going to be able to have to ceremony she'd always hoped for.
'They had been together for nine years and were seen as a rock solid couple so it came as a shock to everyone when it was called off. They had a house together and appeared to be planning their lives together but Taylor suddenly had other ideas.
'She wanted to go to Dubai to start again and that's what she did. He's still in Scarborough getting on with his life.
The source added: 'It came as a real shock to see those pictures of her with Andy Carroll so close to his wedding.