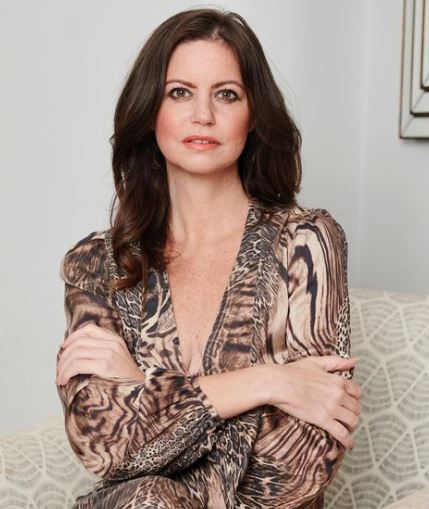 Deborah James Biography – Age, Career, Bowel Cancer, Family, Books, Clothing Line and Net Worth

Dame Deborah Anne James DBE is an English journalist, podcast host and charity campaigner from London. In 2016, she was diagnosed with incurable bowel cancer and went on to host the You, Me and the Big C podcast on BBC Radio 5 about her struggles with her illness
Age
Deborah James was born on 1 October 1981. She is 40 years old.
Career
James was a deputy head teacher specialising in computer science and e-learning at Salesian School, Chertsey, and later moving to the Matthew Arnold School in Staines-upon-Thames where she worked up until her diagnosis with bowel cancer. She began working as a journalist and columnist for The Sun, detailing her cancer journey. In March 2018, she began presenting the You, Me and the Big C podcast for BBC Radio 5, alongside fellow cancer patients Lauren Mahon and Rachael Bland, the latter of whom died in September 2018. In October 2018, she released her book F*** You Cancer: How to Face the Big C, Live Your Life and Still Be Yourself.
In June 2021, after undergoing multiple treatments, James said her cancer was moving in "the wrong direction" and that the drugs she was relying on were no longer effective.In May 2022, James posted an update on her condition on social media, stating that she was receiving hospice-at-home care and that "her body just couldn't continue anymore". Less than 48 hours after her post, over £3 million was raised for her campaign, the Bowelbabe Fund. Two days later, James was appointed Dame Commander of the Order of the British Empire (DBE). Her damehood was conferred on her by Prince William, Duke of Cambridge at her family home
View this post on Instagram
Bowel Cancer
Her listeners and supporters are collectively coming to terms with the news that BBC podcaster Deborah James, who has been fighting stage 4 bowel cancer since 2016, has stopped active treatment and has moved to hospice-at-home care.
"I can't make a deal with the devil anymore unfortunately. I just feel gutted not to have more life, 'cos you know me, I love life so much," she told the BBC in an interview. "We have tried everything, but my body simply isn't playing ball," she continued in an Instagram post, before adding that her focus is now on making sure she's not in pain and spending time with her family. James has two children, Hugo, 14, and Eloise, 12, with her husband Sebastien Bowen, a banker at Pomona Capital.
"I've had some really hard conversations during the last week," she told BBC Breakfast. "You think, 'Gosh, how can anyone have those conversations?' and then you find yourself in the middle of them. And people are very nice, but you're talking about your own death and I've had five years to prepare for my death. It's really hard. The thing that I know, because I trust my husband – he's just the most wonderful man and so is my family and I know that my kids are going to be more than looked after and surrounded by love.
View this post on Instagram
"You always want to know as a mother – are your kids going to be OK? And my kids are going to be fine. But it doesn't mean I'm not going to miss every chance I could have had with them."
James was told early on in her diagnosis she had less than 8 per cent chance of surviving longer than five years, a milestone that she passed on Christmas of 2021.
The You, Me, The Big C podcast host announced the tragic news that she was receiving end-of-life care on Instagram this week with a link to the Bowel Babe Fund. The fundraiser for Cancer Research UK will go towards personalised medicine for cancer patients, and to support campaigns to raise awareness of bowel cancer. In an interview with the BBC, she explained that were it not for experimental treatments, she would have died at least two years ago and wants to give others the same opportunities.
Books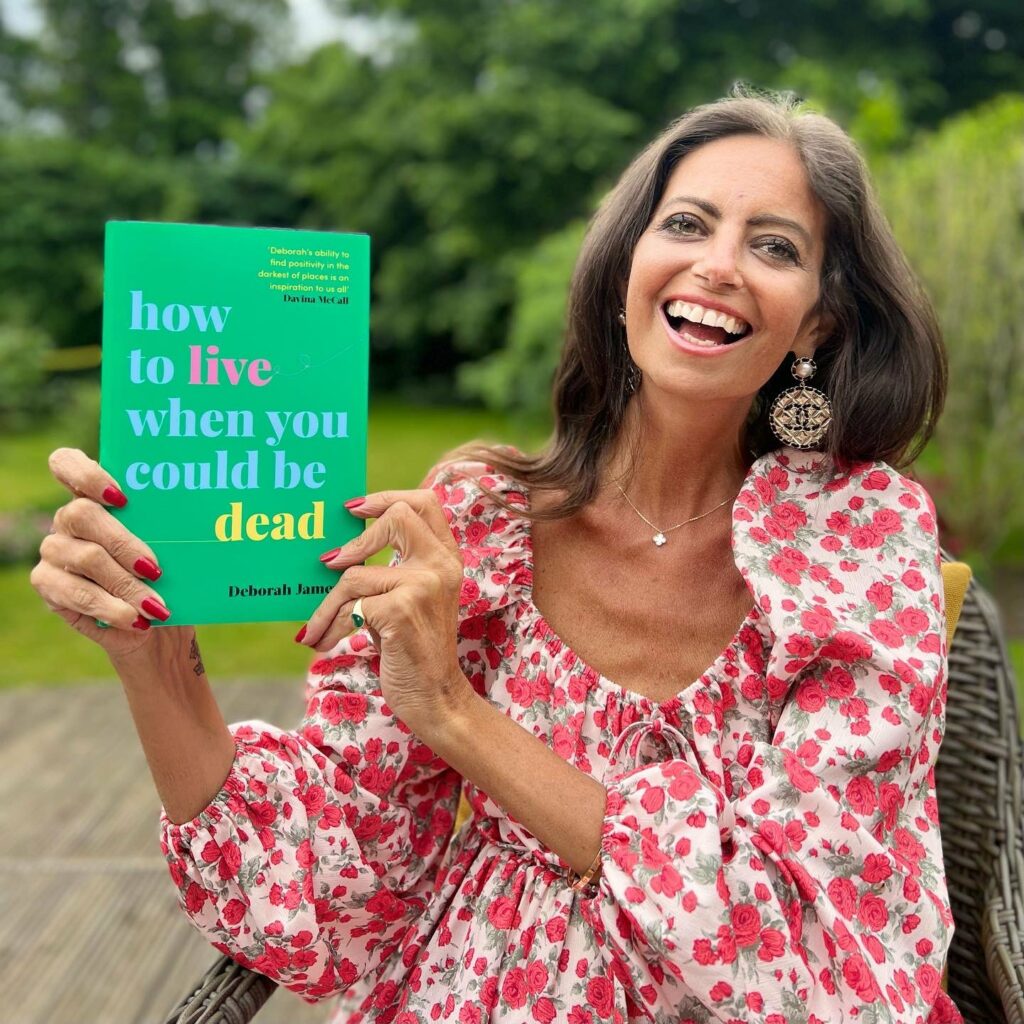 I finally wrote another book! Only taken 2 years but "How to Live when you could be Dead" – must win ironic title of the year – release date is now 18th Aug so u Can pre-order now! £3 per book sold in the UK will go to Bowelbabe Fund for @CR_UK
Personal life
James is married to Sebastian Bowen and they have two children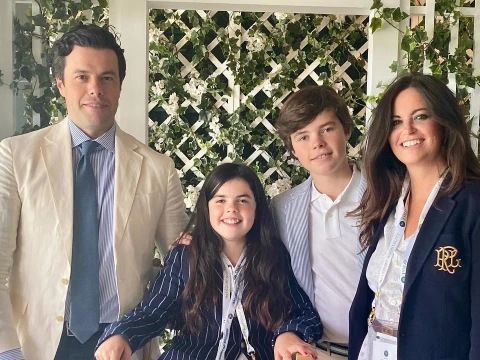 Clothing line
Dame Deborah James posed with her daughter Eloise as she revealed she is set to release her own clothing collection in collaboration with In The Style.
Although the clothing range will be released at a later date, from today shoppers are able to buy a £15 Rebellious Hope t-shirt, with a minimum of £7.08 per t-shirt paid directly to her Bowelbabe Fund to benefit Cancer Research UK.
'I cannot tell you guys how this partnership has kept me going through my hospital stays and taken me away from cancer,' she wrote.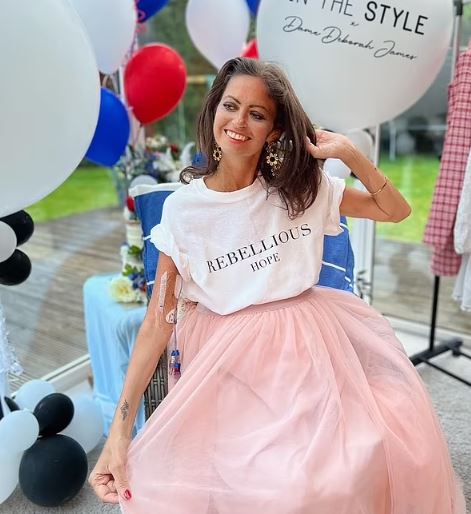 'For years, I always talked about "Dressing up to make you feel better" and over recent months all the ups and downs, being in and out of hospital, dressing up in nice clothes and popping on some Lippy has made a difference to my journey.'
To promote the collection, Deborah donned one of her charity t-shirts with a frothy pink midi skirt. In one photo she embraces her 12-year-old daughter, Eloise, who she shares with her husband Sebastien.
She wrote: 'I'm so excited to finally be able to share (at least part) of a project I've been working on for several months now. Together with the @inthestyle team I've been creating and designing a collection of beautiful clothes to hopefully make us all look good and feel great!!!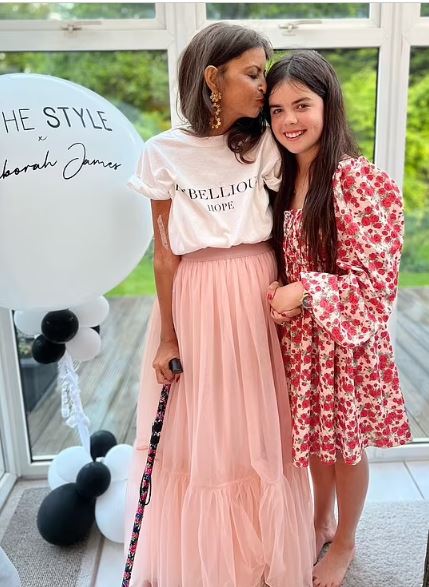 'The main collection isnt quite ready yet, although some of you will have noticed recently I've been sporting a whole host of beautiful floral dresses – which I can confirm were worn for my visit from Prince William!
'Today though, as a sneak taster I wanted to share something really special….. As you all know I've always had a quote close to my heart… 'Rebellious Hope' so @inthestyle have kindly agreed with me to release a limited edition exclusive T-shirt in aid of @bowelbabefund which is available to order via the @inthestyle app NOW, with 100% of profits (minimum of £7.08 per t-shirt) from the sale of each one will be paid directly to Bowelbabe Fund for Cancer Research UK.
Net Worth
Deborah James is projected to have a net worth of 900 thousand dollars