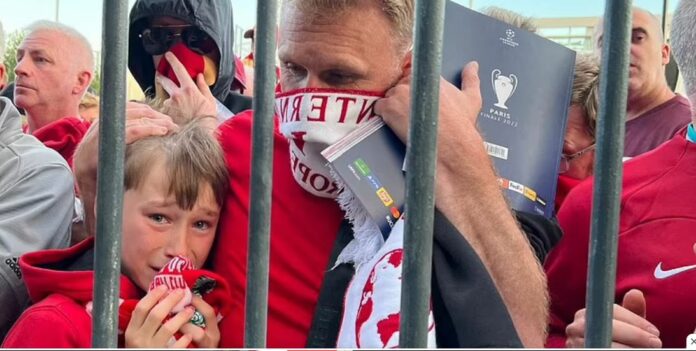 Liverpool fan, Maxwell, 'feared he would die' after he was tear-gassed at chaotic Champions League Final
An 11-year-old Liverpool fan 'feared he would die as he cried his burning eyes out after he was tear-gassed at the chaotic Champions League Final, his furious father reveals as the UK government calls for a formal probe into the chaos in Paris.
Jade Pearce, 47, and his son Maxwell were stuck outside the stadium for two hours on Saturday, before being hit with tear gas by French police.
The father, from Leigh-on-Sea, said that his son suddenly 'started crying as tear gas released nearby hit him'.
Frightened Maxwell told his father he 'thought he was going to die', adding: 'I don't want to be here anymore.'
Yesterday, another Liverpool fan who was tear gassed with his son during the Champions League final chaos described it as a 'war zone'.
And former Liverpool footballer Jason McAteer's wife was mugged, with his eldest son attacked when they left the stadium after Real Madrid's victory, he told LFC TV.
Author Carl Clemente, who has been supporting Liverpool for more than twenty years and travelled all over Europe to see the side, said he was left 'shocked' by the scenes that were played out on the streets of the French capital.
His nine year-old son Carlos was left terrified and had to wipe tears streaming from his eyes after they were caught up in tear gas fired by police at rampaging local Paris thugs.
Mr Clemente, who has written two books on the history of Liverpool, told MailOnline: 'I have been going to games at Anfield and all over Europe for 22 years, since Gerard Houllier was in charge.
'But what I saw on Saturday night I have never seen before and it has put me off going again, obviously I will not stop supporting Liverpool but I will think twice about going to these events again. It was shocking.
'It was the first time I had taken my nine-year-old son to a final, he had wanted to go to Kyiv and Madrid but I thought he was too young so I thought this would be ok as he was the right age.
'We went to the Liverpool fan one park and everything was ok there, we left at 5pm to go to the ground, which was a good four hours before kick off, as we knew it was quite far and we wanted to avoid any hassle.
'Luckily we didn't have any problems getting into the ground but the checks were ridiculous and it was already looking like chaos but once inside what I did notice was the Real Madrid end was full and Liverpool one wasn't.
'I know now that was because of all the chaos at the gates trying to get in but I do wonder if it was wise having a fan zone for Liverpool so far from the ground. The Real Madrid one was a few minutes' walk away while the Liverpool one was across town.'
Mr Clemente added: 'What did annoy me though was when the stadium PA announced that the match was delayed because of fans arriving late. That was completely untrue and I didn't like that, that was a lie.'
He went on: 'After the game we just wanted to get back to the hotel and so we headed back to the pre-arranged pick up point for the taxi. We were disappointed as we had lost but we'd spent some time together and I saw some Liverpool fans heading towards me.
'They said not to go that way as police were pepper-spraying people and firing tear gas but as it was where the pick up was I carried on.
'As we approached the police you could feel the tension, they were very intimidating and they looked as if they meant business with their body armour.
'The style was very different to what we have back in the UK, there was no smile or hello and it was like a war zone.'
Mr Clemente described how local youths began goading police and Liverpool fans as they walked away and then all of a sudden he was hit by a tear gas canister.
He said: 'The disturbances were not caused by Liverpool fans or Real Madrid fans – it was local gangs goading and the police fired tear gas with a canister hitting me on the ankle.
'The force of it knocked me to the found and I was rolling on the floor. My lad was terrified and the smoke got in his eyes and left us both coughing and spluttering with our eyes streaming.
'Carlos was absolutely terrified, like I said earlier it was like a war zone, the police just seemed to want to use the spray and gas. Carlos couldn't breathe properly and it was an awful experience for him.
'What is he going to remember of his first football match ? His sore eyes and police officer shooting tear gas and pepper spray. I've had to take him to Euro Disney to cheer him up as he's so upset.'
UK Culture Secretary Nadine Dorries said today in the aftermath of the chaos: 'The footage and accounts from Liverpool fans and the media on their entry to the Stade de France last night are deeply concerning.
'Thousands of ticket holders travelled to Paris in good time to support their team in the biggest match of their season.
'I urge UEFA to launch a formal investigation into what went wrong and why, in coordination with stadium staff, the French Police, Federation Francaise de Football, Merseyside Police and Liverpool Football Club.
'It is in the interests of everyone involved to understand what happened and to learn lessons from these events.'