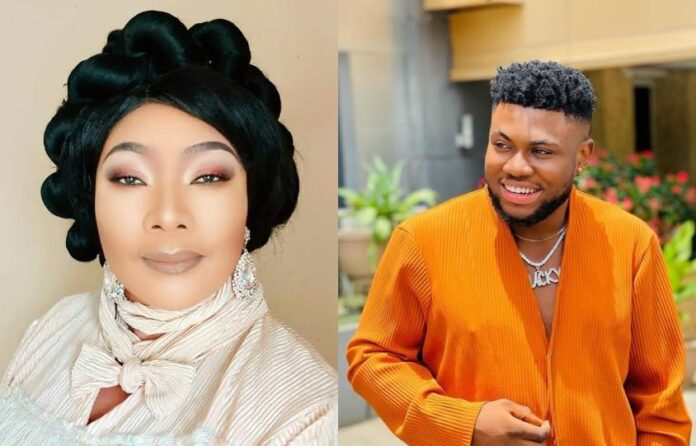 Nollywood actress, Eucharia Anunobi finally finds love in 27 year-old, Lucky Oparah
Actress, Eucharia Anunobi is in love again – this time with a 27-year-old Nollywood actor, Identified as Lucky Oparah, ENigeria Tsbnews.
Eucharia Anunobi, who is renowned for preferring younger men, is at it again, but this time her new guy is a colleague in the same film sector as her, according to what Tsbnews scooped.
Unperturbed about public opinion of her choice of man, who could also pass for her son, Tsbnews has learned that the lovely actress, who holds an English Language degree, is so in love with Lucky Oparah that she sends him poetic love messages via text and Whatsapp, expressing her deep feelings.
Eucharia Anunobi's first marriage to Charles Ekwu, her ex-husband, was full of controversies and rough patches as they both allegedly fought on a regular basis, to the point where he allegedly got fed up and walked out of their matrimonial home, abandoning the actress and their only son, who later died.
There have been rumors that the beautiful and brilliant actress is much older than her ex-husband, but that she wooed him with material things, and that the marriage ended when she couldn't continue to feed his appetite.
The 56-year-old actress was claimed to have contributed N150,000 to commemorate her baby boy Lucky Oparah's birthday, but not without a beautifully worded love message detailing how he has made her life so exciting and all that…
She wrote: "HAPPY BIRTHDAY my love. I hope you have a wonderful birthday today. You have made my life interesting and special. Thank you for being in my live, I love you always my love. Your birthday card is below and your gift is in your bank. Love You Lucky".
Miss Anunobi definitely loves her sugar boy and would do anything to keep him, as evidenced by the content of her love letter, however reportedly gave a proviso to her man to refrain from discussing their romance with anyone to avoid raising eyebrows, but for how long…?
On August 8, 2021, Evangelist Eucharia Anunobi during an interview with Sun Newspaper said, "I would want to get married. I'm looking forward to getting married. And surely, I believe it will happen at the fullness of time because God has already said that it is not good for the man to be alone. So, I am looking for (husband), I'm single. So, if you have anybody who loves me or likes me and feels that I'm the woman of his dreams, please bring him".
Who knows if Mr. right has finally arrived.