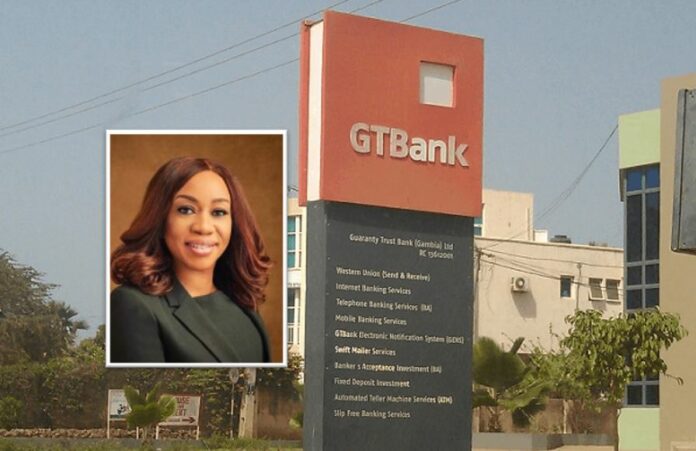 VIDEO: Miriam Olusanya led GTBank Shields Staff who steal from Customers' accounts
It appears that the new modus operandi of Miriam Olusanya led GTBank is for staffers to steal from unsuspecting customers' accounts, Tsbnews reports.
Only a few weeks back, a Lagos based petty trader, Ngozi Njoku accused Guaranty Trust Bank -GTBank of shielding employers whose stock in trade is steal from customers of the bank, particularly those who are not acquainted with use of certain technology deployed by the bank.
Again, in a video obtained by Tsbnews recently, another trader, Ibiere – a crayfish seller and founder of Now Now African Food Market in Warri, Delta State accused the Miriam Olusanya led Guaranty Trust Bank of stealing from her account twice.
An excerpt from the video seen by our correspondent is hereby reproduced. "This is Ibiere of Now Now African Food Market in Warri, right now I'm in GTBank Airport Road Branch. This is the second time in two months that they are stealing from my account without any trace".
This may appear trivial, but an enquiry conducted by Tsbnews revealed that GTBank under the watch of Miriam Olusanya is a shadow of its old self as there are strong indications that fraudulent staffers also enjoy cover from the bank's management.
Buttressing further on the nefarious activities of the fraudulent employee of GTBank, Ngozi Njoku the Lagos trader whose account was feasted upon weeks ago and being shielded by her employers said her account was swept clean while the bank's employee in Egbe branch pretended to help her.
Njoku also accused the bank of protecting the employee whose name she refused to mention. Njoku said she went to the branch on March 18 to upgrade her account's daily transfer limit. A male employee asked her to use the bank app after she explained why she was there.
When she told the staffer she couldn't use the app, she said they asked for her card and pin to help her set up an account. He completed the task successfully, and she returned to her home. "However, the next morning, I received four debit alert messages totaling N600,000." What I saw astounded me because nothing like it had ever happened before. She told Our correspondent, "I knew it had something to do with registering the app and the man who helped me."
"After I left the bank, I didn't use the app for any transactions." He informed me that the app would only function after 24 hours. My money was transferred to three different people."
Njoku alleged that she went to the bank on March 22 to convey her discontent with what happened over the previous weekend, but that the bank deliberately shielded the employee from her and offered her lousy excuses for why she couldn't see him. "From what I can understand, they're trying to protect the employee who installed the software in my behalf phone" He installed the app in my phone. He typed in the one-time password sent to my phone.
He took care of everything else because I didn't know how to operate the app," Njoku explained that "When police officers requested that the bank to produce the employee for interrogation, the bank refused". Instead, she claimed, GTBank protected him by stating the order originated from the bank's headquarters.
"At that point, the branch has completely removed itself from the situation. All of my requests for the bank to assist me in recovering my funds from the staffer were denied. She stated, "This money belongs to a group of women, and I am unable to pay." Our correspondent tried calling GT Bank's customer service number, but it was disconnected. At the time of publication, they had not responded to an email sent to them.
The above cases are only singled out because victims raised heavy alarm in the media, hence attracting public sympathy.
Desperation to install Olusanya as MD/CEO
Miriam Olusanya's appointment as Managing Director of GTBank was purportedly engineered by her predecessor Segun Agbaje, whose father's seed money was used to establish the bank with Fola Adeola and late Tayo Adenirokun.
Segun Agbaje allegedly made some extreme moves in the run-up to her confirmation, including allegedly orchestrating the removal of three Executive Directors and six General Managers from the bank.
Agbaje's haste to install Miriam Olusanya resulted in the latter's company in the United States of America being dissolved.
According to reliable information available at the disposal of Tsbnews, Miriam Olusanya dissolved her investment company, K. O. & C. Investments, LLC, a firm she incorporated in the State of Georgia on May 3, 2012, with a physical registration and office address at 3987 Nemours Trl, Kennesaw, GA, 30152, USA.
Obviously, Segun Agbaje won the contest and successfully installed his preferred candidate as GTBank's MD/CEO as against entreaties from some key board members, but it needs to be seen if she is qualified to carry out her duties. According to a recent survey, Olusanya is said to be falling short of her major responsibilities at the helm of affirms of the bank.