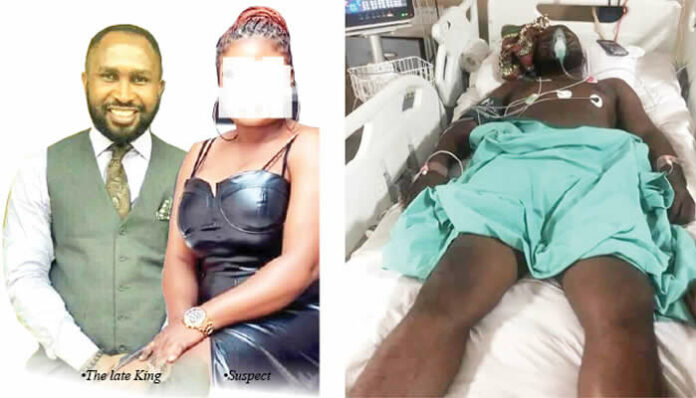 Family Suspects Foul Play As Akwa Ibom Man, Edwin King, Dies After Meal With Lover
The family of a master of ceremonies in Akwa Ibom, Edwin King, is in grief following his demise after a meal he allegedly took in his girlfriend's Eket home in April 2022.
Saturday PUNCH gathered that the late King was told by his girlfriend, one Splendour Ita, to visit her in her home on Sunday, April 10, 2022, in Eket, where the duo was said to have had a meal together.
It was learnt that King died days later from kidney complications reportedly from food poisoning.
A family member of the deceased who spoke on condition of anonymity told our correspondent that King and Ita were no longer dating when the incident happened.
The family member said, "The two of them were no longer dating when the matter occurred; they broke up months before the incident. Splendour called him for them to get back together and he obliged. On getting to her home in Eket that Sunday afternoon, they both went to eat and that was how the problem started.
"I don't know if it was both of them who ate the food but what I know is that it was my brother who died. Splendour is still alive, and that is what I don't understand. We received a call from one of Splendour's neighbours who told us that our brother was admitted to a private hospital because of food poisoning.
We went to the hospital and took King away to Ibom Specialist Hospital, Uyo, where he was diagnosed with an enlarged kidney. I have the medical report with me.
"He died a few days after and Splendour has been on the run since then. They (police) said they arrested her, but I have not seen her with my eyes. Even her family members have been hiding her. They must tell me what happened to Edwin King. They cannot sweep this under the carpet.''
Our correspondent contacted the Ibom Specialist Hospital to get a report of what their investigation was and a staff member, who did not give his name, directed our correspondent to a Facebook page, belonging to an individual to get the signed medical report from the hospital.
The report dated May 18, 2022 and signed by the Medical Officer, Dr Queeneth Akpan, titled, "RE: Edwin Eno King/M/ISH413804" stated that King was brought unconscious on April 11.
"The above patient was rushed to the emergency unit of our facility as a referral from a peripheral hospital on April 11, 2022, with a complaint of loss of consciousness and 30 hours in which the informants were parents and siblings.
"He was said to have been found unconscious alongside a female friend at her house in Eket. The door was forcefully opened to rescue them. Relatives were then called from Uyo and informed about the situation.
"At presentation, he was unconscious (GCS=5/15), power = 0/5 in all limbs, tone = normal globally. He was also noted to have right calf swelling, bruises on the left posterior chest wall and a reduction in urine volume with the passage of scanty coke-coloured urine.