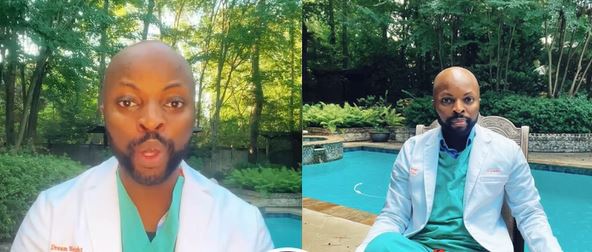 Ike Ekweremadu's arrest is proof that our healthcare system can't protect the poor – US-based Nigerian doctor, Rommel Asagwara says
TSB News reports how Doctor Rommel Asagwara has spoken on Nigeria's failed health system that can't protect the poor. He wrote:
How ironic, 77% of black doctors in the USA are Nigerians, yet Nigerians back home don't have access to basic healthcare except the rich who can afford private expensive medical centers and medical trips overseas. Quality healthcare should be the preserve of every Nigerian.
The quality of a country's healthcare system has a direct impact on the wellbeing and life expectancy of it's people.
Nigeria the richest country in Africa, with a GDP of $1.03 trillion (world bank), more than 500 trillion naira, yet healthcare only gets 4.2% of its national budget. That amounts to N3,510 ($6) per Nigerian for their health. Not even the Primary Health Care Centres (PHCs) meant to cater to the basic health needs are spared. In 2022, they only got N800,000 ($1300). What a slap in the face to know that your health isn't taken seriously by leaders who make promises they can't keep.
Funding and prioritizing our healthcare system benefits all 3 classes: (i)the hustling struggling poor class; (ii) the intellectual / business minded hopeful middle class (iii) the we run the show oga-on-top / Madam-Birkin bag collector rich class.
The recent arrest and ongoing investigation concerning Former Senate President Ike Ekweremadu in the UK, is proof that our healthcare system can't protect the poor and it sooner or later catches up with the rich who can run but can't hide for too long.
If your healthcare isn't as good as you deserve it to be with infrastructures put in place, proper funding including appropriate pay to prevent strikes of personnels, then you need to ask for change. Anything less would be us going in circles.
Nothing has worked for a long time and we forget that we are the Giant of Africa.
Please go get your PVC today. Let us change the narrative. We cannot continue like this, like we say "our tired is TIRED"!

View this post on Instagram