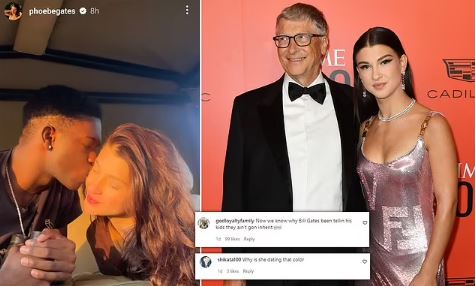 Bill Gates' youngest daughter Phoebe is trolled with racial abuse after sharing Instagram photo of her black boyfriend
Billionaire Microsoft founder Bill Gates' teenage daughter Phoebe is being trolled with vile racist abuse after sharing a sweet Instagram snap of herself being kissed on the cheek by her rumored black boyfriend. 
The 19-year-old Stanford University student posted the candid image on her Instagram Stories on Wednesday, and within minutes, social media was being flooded with crude comments about the alleged relationship.
In the snap, Phoebe – who is the youngest child of Bill, 66, and his ex-wife Melinda, 57 – is seen leaning in towards the unnamed man, while he is pictured kissing her sweetly on the cheek.
The unidentified beau appears to have a pair of binoculars in his hands as he plants a peck on Phoebe's cheek – while what appears to be a tent can be seen in the background.
Phoebe's brunette locks hang loose around her shoulders and she looks to be wrapped up in a brown blanket as she shared a tender moment with her so-called boyfriend – who is wearing a T-shirt from rapper Drake's fashion line, October's Very Own (OVO).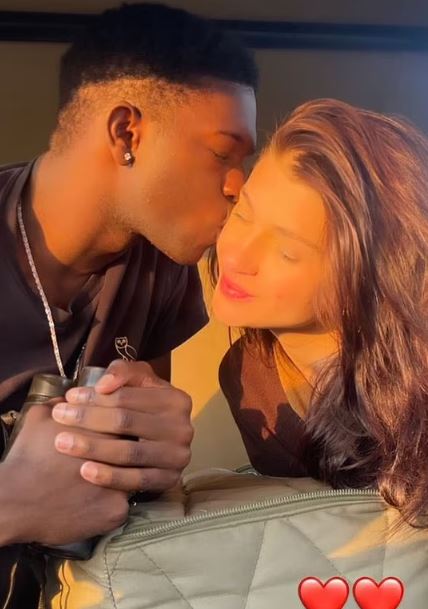 After the image was reposted on Instagram, dozens of other people chimed in with racist commentary, with one person writing: 'This was the dream MLK spoke about.'
'Bill about to smash a vase against the wall,' someone else commented.
'Bro become a millionaire in a matter of seconds,' another person wrote, as one Instagram user added: 'Now we know why Bill Gates been tellin his kids they ain't gon inherit s**t,' referring to Bill's previous revelation that he will not leave the majority of his wealth to his children.
The billionaire – who is one of the richest men in the world with an estimated net worth of $123.7 billion – announced at a TED conference in Canada in 2014 that he will instead leave most of his fortune to his family's foundation.
However that hasn't stopped social media users from making sordid suggestions about Phoebe's rumored new romance – with several urging the unnamed suitor to 'get her pregnant', while others joked that he has 'secured the bag'.
'He getting his reparations LMAO,' another wrote.