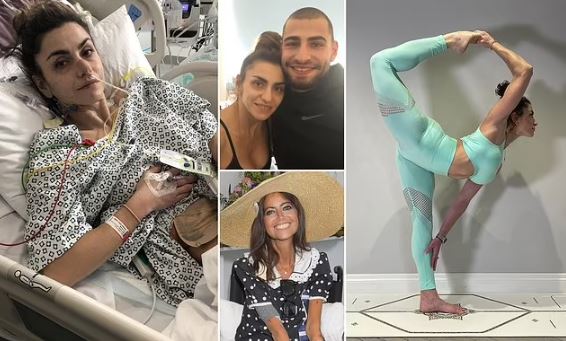 Britain's longest surviving bowel cancer patient, Bex Papa-Adams, after being given 12 months to live 17 years ago is now cancer free
Bex Papa-Adams, from Kent, is Britain's longest surviving bowel cancer patient
Britain's longest surviving bowel cancer patient, who was given one year to live 17 years ago, is now cancer free.
Bex Papa-Adams, from Hempstead, Kent, was diagnosed with stage four bowel cancer at the age of 29 and was told she had about a year to live.
Now 17 years and nine major operations later, the 45-year-old mum-of-three is cancer-free and has become a fully-qualified yoga teacher.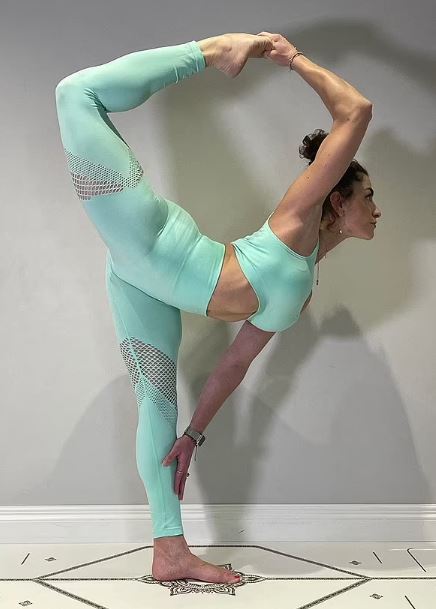 She believes Dame Deborah James, who died last month at the age of 40, and was buried on Wednesday, has done a lot to release the stigma of the disease with her Check Your Poo message and Me and the Big C podcast.
The campaigner was diagnosed with the same cancer as Bex and both stressed the importance of pushing for an early diagnosis.
Bex, who lives with husband Theo said: 'It took 18 months to diagnose me, yet I had symptoms like blood in my stools.
'They said I was too young when I asked if it could be cancer. They said I was paranoid it could be piles.'
She added: 'Many times I was told I might not pull through and my family were called to come and say their goodbyes.
'All my operations were life-saving and lasted about six hours. My last operation was six weeks ago, and I was a week in intensive care and four weeks in a high-dependency ward.'
She puts her strength to carry on down to her yoga and her husband, who she describes as 'a pillar of strength'.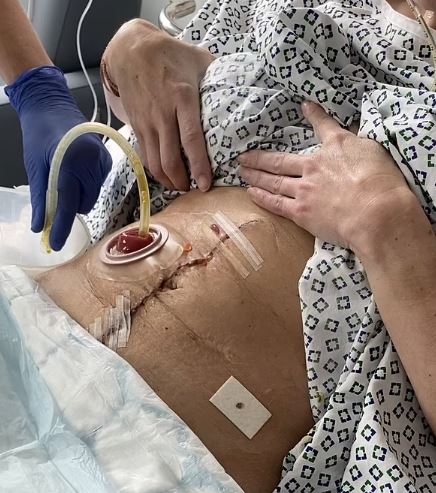 Her Inspire My Yoga online programme has 130,000 subscribers and she used breathing techniques and meditation throughout her treatment.
Her family have been told by doctors she is likely to be the longest surviving stage-four bowel cancer patient in Britain.
Symptoms of bowel cancer
Bowel, or colorectal, cancer affects the large bowel, which is made up of the colon and rectum.
Such tumours usually develop from pre-cancerous growths, called polyps.
Symptoms include:
Bleeding from the bottom
Blood in stools
A change in bowel habits lasting at least three weeks
Unexplained weight loss
Extreme, unexplained tiredness
Abdominal pain
Most cases have no clear cause, however, people are more at risk if they:
Are over 50
Have a family history of the condition
Have a personal history of polyps in their bowel
Suffer from inflammatory bowel disease, such as Crohn's disease
Lead an unhealthy lifestyle
Treatment usually involves surgery, and chemo- and radiotherapy.
More than nine out of 10 people with stage one bowel cancer survive five years or more after their diagnosis.
This drops significantly if it is diagnosed in later stages.