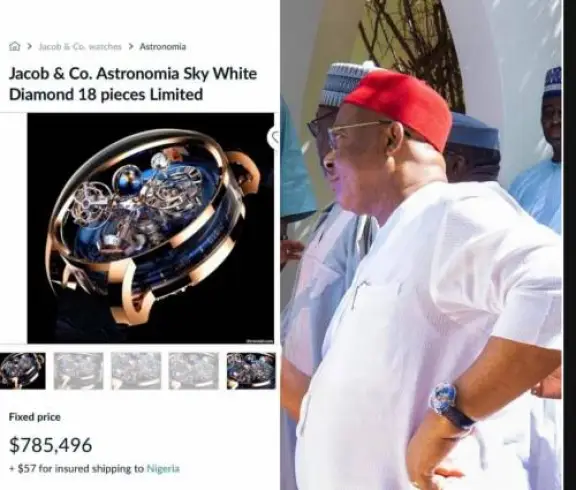 Cubana Chiefpriest reacts to governor Hope Uzodinma's N455Million wrist watch
The Imo State Governor, Senator Hope Uzodinma was on Monday spotted with a designer wristwatch worth millions of Naira.
The value of the Jacob & Co. Astronomia Sky White Diamond 18-piece Limited worn by the governor is valued at $785,496 (455,587,680 at $580 per dollar)
An architect and building engineer who has been in the building industry for over 25 years, Mr Adeola Olutayo, told SaharaReporters that N5 to N6 million can build a block of six classrooms in Nigeria, excluding the price of land, which he said varies from place to place.
"With N5 – N6m, you will build a block of six classrooms each but that excludes the land on which it is to be built because the prices of land vary from place to place. The price you will get in Lagos for a piece of land will not be the same for Owerri or Abuja and even in each city, prices also vary depending on the area," he said.
With that estimate, SaharaReporters realised that the N455 million wristwatch worn by Governor Uzodinma can build about 75 blocks of six classrooms each for pupils, some of whom lack adequate classrooms.
SaharaReporters also learnt that it could also build well-equipped 30 primary health centres at the rate of N15m each.
Uzodinma was one of the governors of the ruling All Progressives Congress APC (APC) received by President Muhammadu Buhari at his country home in Daura, Katsina State on Monday.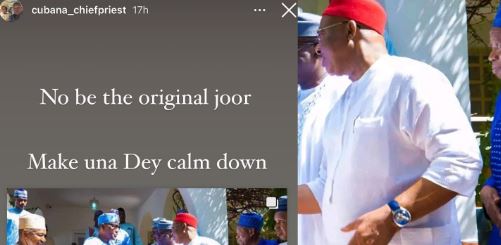 Celebrity barman, Okechukwu Pascal popularly called Cubana Chiefpriest has defended the Imo State Governor, Hope Uzodinma over his designer wristwatch worth N455 million saying it is not original.
What do you think?