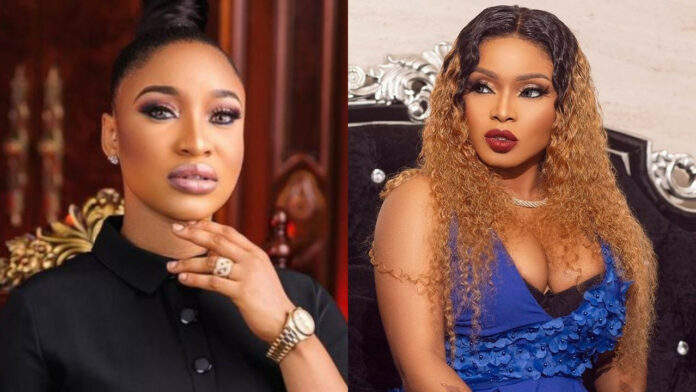 Halima Abubakar appreciates Tonto Dikeh for doing the unthinkable amidst beef
Halima Abubakar has penned a sweet appreciation post to her former friend, Tonto Dikeh.
These past few days have been challenging for Halima Abubakar who had to reopen old wounds after her secrets were exposed.
The actress has been in the spotlight over her alleged affair with a clergyman, Apostle Johnson Suleiman, which according to reports, almost led to her death.
Controversial blogger, Gist Lover, disclosed that the actress was involved in a relationship with the man of God, who is allegedly a fetish.
The faceless blog unveiled numerous secrets and identities allegedly involved with Apostle Suleiman.
After the reports emerged online, Halima Abubakar, via her Instagram story, claimed that there would be a disaster if she opened her mouth to confirm the rumors.
Halima went on to fight dirty with her colleagues who took sides with the clergyman.
One of the pieces of evidence, Gistlover had against Halima, was a screenshot of her admitting the truth to a friend.
Halima disclosed to the unidentified friend that she couldn't open up to Tonto Dikeh (who was at that time her friend) about what she was passing through.
Taking to her Instagram story, Halima Abubakar appreciated Tonto for reaching out to her despite their beef.
She wrote, "Tonto wigo that was sweet. All love from here. Forever my girl".
This sweet gesture from Tonto Dikeh comes as a surprise as Tonto Dikeh had denied being friends with Halima Abubakar.
In 2021, Tonto reacted to speculations that she and her colleague Halima Abubakar were now back as friends.
This came after Tonto Dikeh took to her Instagram page to react to Halima Abubakar's post on calling out some bullies in the Nollywood industry.
Reacting to this, an Instagram user expressed excitement that Tonto Dikeh and Halima Abubakar were finally back as friends.
However, Tonto Dikeh decided to set a straight record stating that Halima was not her friend but an ex-friend who was always fighting herself.
Tonto Dikeh added that she does not have Halima Abubakar's time, and they are not quarreling.