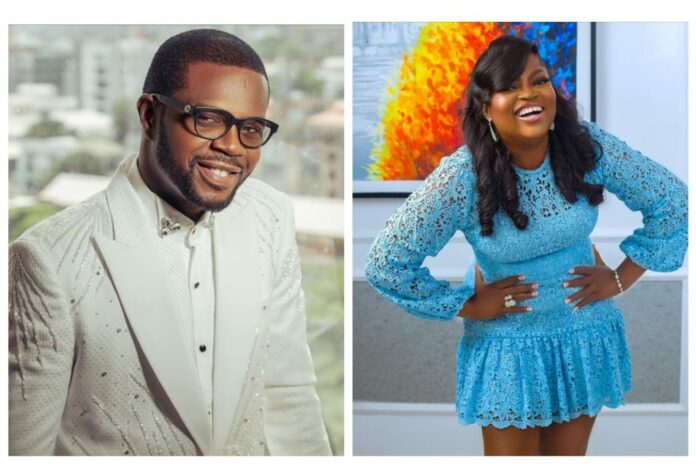 How Funke Akindele's family allegedly participated in her marital failure
There have been several sides of stories popping up since JJC Skillz announced the dissolution of his 6years old marriage to Funke Akindele.
A source, Tosin Silverdam, stated that apart from the alleged infidelity, mismanagement of funds, blow job, bi sexual accusations, Funke Akindele's family loathed her husband.
According to Tosin, her family didn't respect JJC Skillz.
This was the same for the JJC Skillz family as they also didn't love Funke. They preferred his white baby mamas.
Tosin further spilled on how Funke Akindele was controlling as she didn't want her husband to work for anyone except her.
"The marriage has ended, Funke is done. They are both at fault Sha. Funke was too controlling, Funke is no-nonsense, and she doesn't want her husband to work for anyone except her. There are accusations of cheating, mismanagement of funds, blowjob from a masseur, and bisexual accusations too. Funke's family loathes her husband, they don't respect him at all. Like JJC Family doesn't like Funke too. His family loves the white baby mama. All the best jare. Allegedly oooooh".
Tsbnews recalls more details had unfolded on the supposed cause of the break-up between beloved Funke Akindele and her movie producer husband, JJC Skillz.
Following the heartbreaking news, blogger, Cutie Jules had given a comprehensive detail of what went wrong in the union.
Cutie Jules revealed that Funke Akindele couldn't forgive JJC Skillz after she caught him having a blow job.
Recall that JJC Skillz's son, Benito, and his mum, Mella had also corroborated the infidelity accusations.
Cutie Jules alleged that infidelity and money marred the second marriage of the actress.
The blogger also revealed that Funke Akindele isn't ready to give JJC Skillz anything.
"Hey Omo, so Funke couldn't forgive this small head that she caught JJC enjoying? And the money issue which we've already given details so don't want to bore you with it.
Hmmm, see wetin ordinary blow job have caused. What Oluwa has out together, let no konji put asunder. But the thing is the legal battle is going to be long. Funke doesn't want to give Skillz anything but the truth is, Skillz built more than 70% of Funke's wealth together with him. She should have put him on a payroll cuz that would have helped but let's wait and see cuz this one when. London street boy vs Lagos street girl…clash of the Titans".