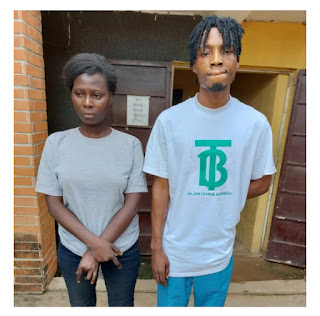 Kadiri Jamiu And Opeyemi Arrested For Kidnapping Pastor Mapai Samuel During Church Service
A woman, Opeyemi Ibikunle, has explained to the police in Ogun State, why she arranged for men in military uniform to kidnap a pastor in Abeokuta, the State capital.
It was gathered that the pastor, Mapai Samuel of ZOE Family International Church, Odo Eran, Abeokuta, was forcefully abducted by two men in military uniform on the directive of Opeyemi.
The fake soldiers and the woman were said to have invaded the church at about 8 pm while the pastor was preaching and dragged him away to an unknown destination.
The Ogun State Police Public Relations Officer, Abimbola Oyeyemi, however, said the command, in the early hour of Thursday arrested Opeyemi and one other man identified as Kadiri Jamiu, in connection with the forceful abduction of the pastor.