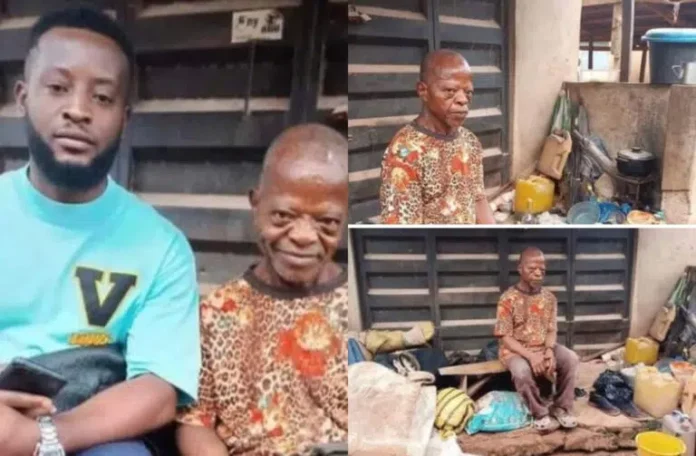 Mixed Reactions Popular Nollywood Actor, Kenneth Aguba, has become homeless and sleep on the streetsTsbnews reports that popular Nollywood Actor, Kenneth Aguba has become homeless and sleep on the streets.
The news making rounds is that the actor who has starred in several Nollywood movies doesn't have a home of his own.
The veteran was seen in pictures going viral sitting in a shabbily environment.
Nigerians have reacted with disbelief to the reports of veteran actor Kenneth Aguba's homelessness amid his fame.
The actor was seen having his lunch with him.
Most appalling is the narrative by eyewitnesses that the experienced actor sleeps on the street and by roadside shops.
Taking to comment section, Nigerians lambasted the actors guild of Nigeria and question their purpose of existence.
See reactions below:
the_only_ola : How did it get to this point????
joansportbliss : Dem no dey ever help themselves ooh. Only show off. When something happens to him now. U will see emergency love from no where. Mtchewwwwww yet they have a president n excos
frankisaiah85 : Chaiii….is he not a member of the @actorsguildofnigeria and even if he's not, he has contributed to some of the great Nollywood movies of those days. Let's help him bikonu. This is unbelievable.
jennifer.anozie.7 : I have even see dis man picking things from dustbin at Okpara avenue Enugu
victoria20152015 : How did this happen? Oh my goodness
official_cherishmatur : Normally Nigerian movie industry is not that rosey, I once entered a bus from Ogba with a well popular actress. I weak when I saw her. My God she looked so bad the industry is for the ladies not for men.
@omapretty_14 wrote: "That man needs help. He doesn't have a child or wife as I heard and I have seen him at Enugu sleeping from street to shops."