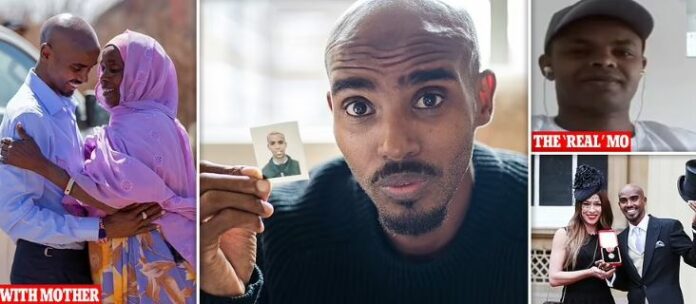 'My name is not Mo Farah, it's Hussein' – Britain's Olympic hero reveals he was TRAFFICKED into UK from Somalia with stolen identity
But Sir Mo Farah was actually born Hussein Abdi Kahin, something he says he is still struggling to make sense of.
Sir Mo Farah today revealed he has been 'hiding a secret all my life' and admitted he was an illegal immigrant whose real name is Hussein Abdi Kahin and that his identity was stolen from another Somali child.
Britain's greatest long distance runner, 39, has said he was trafficked into the UK when he was around eight or nine and spent his early years as a domestic slave for a woman he had never met before.
In a BBC documentary, The Real Mo Farah, which will be broadcast tomorrow night, the father-of-four apologises for lying about his identity and the deception in his 2013 autobiography. He was given British citizenship in 2000, given a CBE in 2013 and then knighted by the Queen in 2017 under his false name.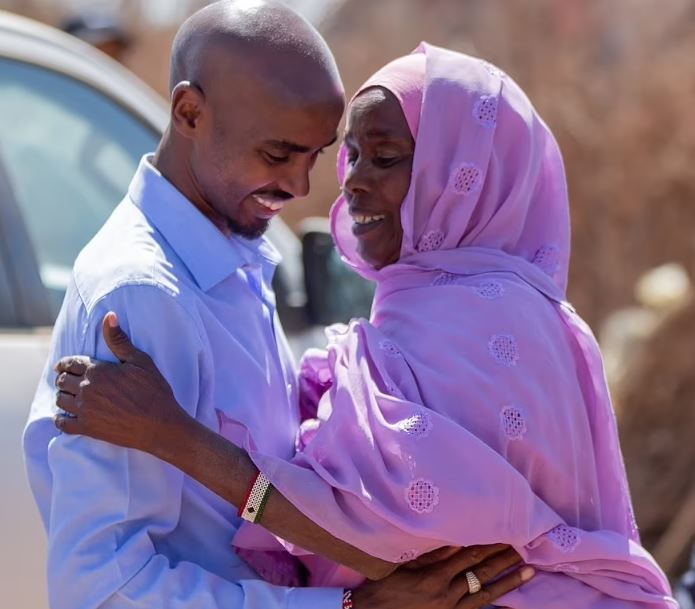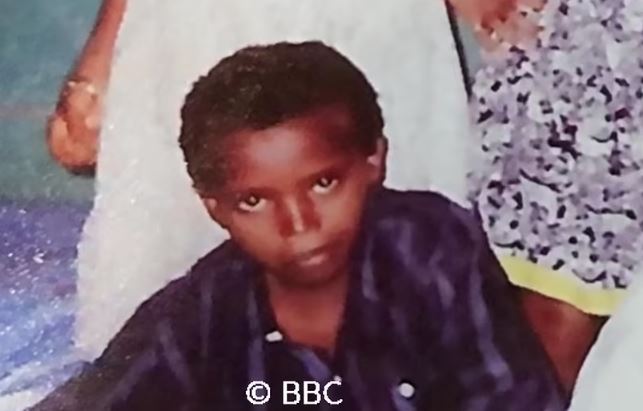 He cries as he tells the film: 'Most people know me as Mo Farah, but it's not my name or it's not the reality. The real story is I was born in Somaliland, north of Somalia, as Hussein Abdi Kahin. Despite what I've said in the past, my parents never lived in the UK.
'When I was four my dad was killed in the civil war. I was separated from my mother, and I was brought into the UK illegally under the name of another child called Mohamed Farah.
'To be able to face it and talk about the facts, how it happened, why it happened, it's tough. The truth is I'm not who you think I am. And now whatever the cost, I need to tell my real story'.
He adds: 'The hardest thing is admitting to myself that someone from my own family may have been involved in trafficking me. What really saved me… was I could run'.
Sir Mo, whose eldest son is Hussein – now revealed to be his true name – has revealed that he had to cook, clean, change nappies and wash the unnamed mother's children 'if I wanted food in my mouth'.
He says the woman, who is still believed to living in Hounslow, told him: 'If you ever want to see your family again, don't say anything'. 'Often I would just lock myself in the bathroom and cry'.
During the documentary, Sir Mo visits the shack he lived in with his uncle in Djibouti, where he was trafficked from. He also visits his mother Aisha and family in Somaliland.
Mo also speaks to the real Mohamed Farah – and thanks him for letting him use his name.
His wife of 12 years, Tania Farah, has said that she only learned the truth before their 2010 wedding as she realised 'there was lots of missing pieces to his story'. He initially denied he was lying to her but she eventually 'wore him down with the questioning' and he told the truth.
His children also appear to have learned the truth recently. 'That's the main reason in telling my story because I want to feel normal and… don't feel like you're holding on to something', he said.