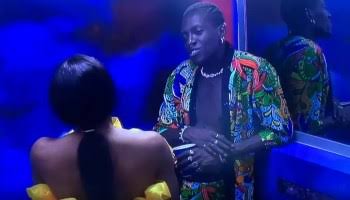 BBNaija: Allysyn kisses Hermes after giving reasons why she can't date him
Level one housemates, Hermes and Allysyn shared their first intimate kiss after the Saturday Night Party and continued what they started at the party on Sunday morning.
This comes after Allysyn disapproved of the relationship when he opened up about his feelings for her on Friday night.
Allysyn earlier said she cannot date him because he is in a polyamorous relationship as she's unsure of his feelings towards her.
On Saturday night, it seemed as though her attraction toward Hermes had overshadowed any doubts as both housemates engaged in a passionate kiss that ended in a warm embrace.
It seems the love and affection have grown as both housemates continued their passionate kiss on Sunday morning.
Allysn's former statements were disapproving but with this, fans are anticipating a serious relationship between Hermes and Allysyn.
She said on Friday, "I am not saying that you are confused. I respect that whatever you have going on I understand it.
"I am just saying I wouldn't want to put myself in that kind of situation. I won't entertain any situation with you because I can't put myself in such."