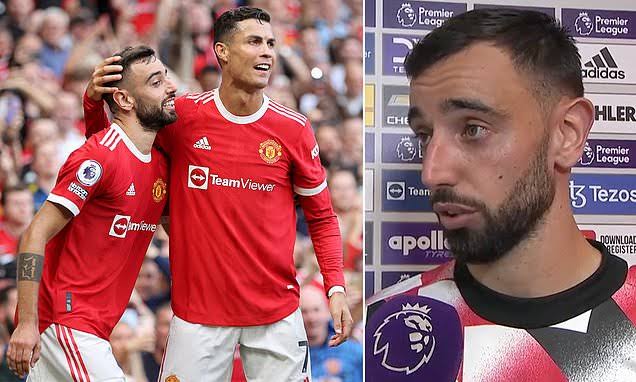 Bruno Fernandes suggests he knows where Cristiano Ronaldo's future lies
Manchester United midfielder Bruno Fernandes has hinted that he may know where Cristiano Ronaldo's footballing future lies.
It is no secret that Ronaldo has been trying to secure a move away from the club on a permanent basis but he is still part of the squad as there are minimal suitors for the 37-year-old.
He wants to play Champions League football which will not be taking place at Old Trafford this season under Erik ten Hag.
A number of big clubs such as Chelsea and Bayern Munich have turned down the opportunity to make the former Real Madrid man a part of their squad.
The Portugal international started United's victory over rivals Liverpool on the bench on Monday evening – making just a four-minute substitute cameo. And midfielder Fernandes stayed tight-lipped regarding his teammate's future.
Speaking to Eleven Sports after the Red Devils' win, Fernandes said: "There is a lot of speculation. I may know one thing or another, but I won't be the one who will say it.
"For now he is a United player, I don't know about his future, if he will leave or if he will not leave.
"As he said, he will speak soon and they will have time to hear his words and what he has to say.
He can continue at a high level and give us a lot of goals but it's his decision.
"We have to respect what he wants to do, whatever he wants to do.
"If he's going to stay, we'll be happy about it, if he's going to leave because he thinks it's best for him, I'll be personally happy for him."
With question marks over his future, the Portugal international took to Instagram to inform Man Utd fans that, "you'll all know the truth when I do an interview in a few weeks' time."
Ronaldo added: "The media only spouts lies. I have a notebook and out of the last 100 news stories that have been written, only five have been accurate. You can imagine the way things are. Bear that figure in mind."