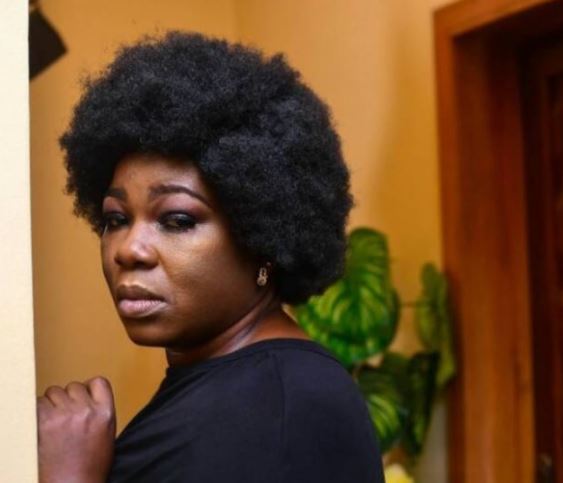 Celebrities shun donation for Ada Ameh's burial, committee raises N278k
Nigerian entertainers, particularly Nollywood actors have shunned the calls for donation for the burial of Nollywood actress, Ada Ameh.
TSB NEWS reports that Ameh, who died last month, would be laid to rest in her country home, Ugboju in Otukpo LGA of Benue State on August 26.
However, there have been calls by her close friend, Empress Njamah, on her colleagues to make financial contributions to the burial.
Several weeks after her calls, she was able to raise only N278,000,
Findings by IDOMA VOICE showed that no Nollywood actor contributed to the burial.
List of the burial as released by Njamah below.
(1) GBADAMOSIOLA 10,000
(2) YVONNE IDICHE 1,000
(3) OROTOMA AKPOB 1,500
(4) FALADE ARAMID 5,000
(5) ALIM SYLVESTER 1,000
(6) IFEYINWA MAUR 3,000
(7) OGUNSANYA AYO 1,000
(8) UBIEM NWANNEH 10,000
(9) IFEKA NDUCHIE 5,000
(10) MELISAKIM CLOTHING 20,000
(11) SANI OMOLORIE 5,000
(12) AGYO JUDETERH 5,000
(13) DEKAH IBRAHIM 2,000
(14) PATIENCE OLUW 20,000
(15) OROFA LINDAA 2,000
(16) NZELU IHEANAC 1,000
(17) OKONKWO PAULI 10,000
(18) KONIBIRE OLAD 1,000
(19) OMENAEFEMENA 1,000
(20) NWANKWO CHIGO 2,000
(21) SOMTOCHUKWU F 3,000
(22) OMORIA ANNA I 1,000
(23) JUDITH ONYINY 1,000
(24) LINDA CHINEYE 5,000
(25) IJEOMA MAUREE 2,000
[7:09 PM, 8/15/2022] Shuga: (26) MONDAY ESTHER 2,000
(27) NSIMA CHRISTOPHER 5,000
(28) MR OLUWAFEMI MON 5,000
(29) 0AMENMACAULA 5,000
(30) NJOKWU PAULINE 2,000
(31) NGUUMBURSAND 5,000
(32) STEVE ZAKAAYU 15,000
(33) ANUNOBI CYNTHIA 5,000
(34) EFOSA OKUNBOR 5,000
(35) ADEBAYO ADEDO 5,000
(36) DORIS CHINONY 10,000
(37) BADRU OMOLOLA 2,000
(38) CHIOMA PEACE 5,000
(39) OGBONNA CHIDI 1,000
(40) GALIMA HANAMA 20,000
(41) AGENT ELOH 20,000
(42) JOAN NNEDIMMA 2,000
(43) ALONGE TOLULOPE 7,600
(44) GBCSKINCA 10,000
(45) AJIBOYE OLURA 10,000
(46) ALABI OLUFUNM 1,000
(47) FATONAROSEMA 20,000
(48) EMELIKE UGONNA 1,000
(49) UZODIMMA (50) MAOYE(10naira)
(51) OMINE ORISARU 5,000