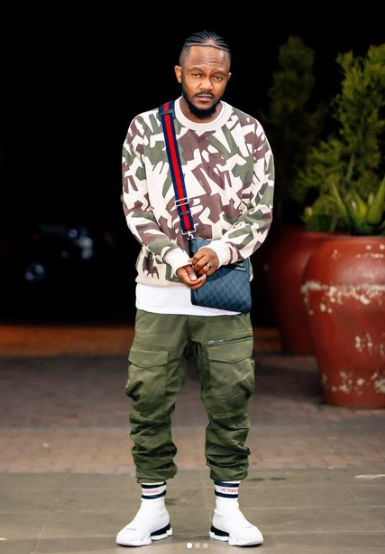 Kwesta Biography – Age, Career, Family, Stripper Allegation and Net Worth
Senzo Brikka Vilakazi  known professionally as Kwesta, is a South African rapper and songwriter
Age
Kwesta was born 11 August 1988. He is 34 years old.
Career
In 2007, Kwesta earned a judging gig on the Sprite Hip Hoop Tour and a feature on The Ventilation Street Tape. He was also part of The Nokia Defend Your Street Campaign, where he worked with other artists to create the theme song.
In the same year, Kwesta released his inaugural single Sharp Fede. He later released a mixtape in collaboration with DJ C-Live.
View this post on Instagram
In 2010, Kwesta was among the few chosen as Brand SA Ambassadors. He performed during the national roadshows held before the 2010 FIFA World Cup hosted in South Africa. Kwesta worked alongside Kelly Rowland, Jozi, and 2Face amongst other artist on the Everywhere You Go anthem for MTN. He also performed during the 2010 FIFA World Cup closing ceremony.
In March 2021, his single "Fire In The Ghetto" featuring Troublle was released, as album's lead single. In early April 2021, pre-order were made available.
On 30 April 2021, Kwesta released his fourth studio album, titled g.o.d guluva [acronym for "ghost of dakar"], it features South Africa artists Thabsie, Focalistic, TLT, Yanga Chief, K.O. The album peaked No. 4 in South Africa Top 100 Albums, and received generally positive reviews from music critics.
At the 2021 Mzansi Kwaito and House Music Awards, his single "Njandini" received a nomination for the Best Kwaito song
Family
Kwesta  got married to his heartthrob, Yolanda Vilakazi in 2019 and have two children together. The pair have been together for over 10 years but Kwesta proposed to Yolanda again as seen in her Instagram post on 25 June.
View this post on Instagram
Stripper Allegation
South African music executive Nota Baloyi slammed rapper Kwesta for "getting a stripper pregnant" on an episode of POV X Gigi podcast which was released on YouTube on 23 August.
Nota Baloyi took a swipe at Senzo Brikka Vilakazi, popularly known as Kwesta, an episode of POVXGIGI podcast which was released on YouTube on 23 August. The music executive claimed that when "Kwesta got a stripper pregnant" he had to make sure the rapper had enough money to take care of his "baby mama" and child.
"When he got his girlfriend pregnant, as much as I did not approve of the relationship or whatever. First things first, Drum Magazine 'Kwesta gets stripper pregnant'," he said.
"Now I need to be like okay, this guy has got a career in music, he needs to support this girl and he needs to make sure that he is making enough money to stop her from working at lollipop lounge occasionally," he continued.
He went on to say that he had to be a father to an adult.
"I'm not his father but I need to make sure that he is making enough money so that he can support his girlfriend. So, that he can keep her and protect her from being on the streets. Which means I can't be reckless and get some girl pregnant at the same time," he added.
Kwesta is known to have two daughters with his wife Yolanda Vilakazi. So, it is unclear who Nota is referring to.
Net Worth
He has an estimated net worth of $800,000.