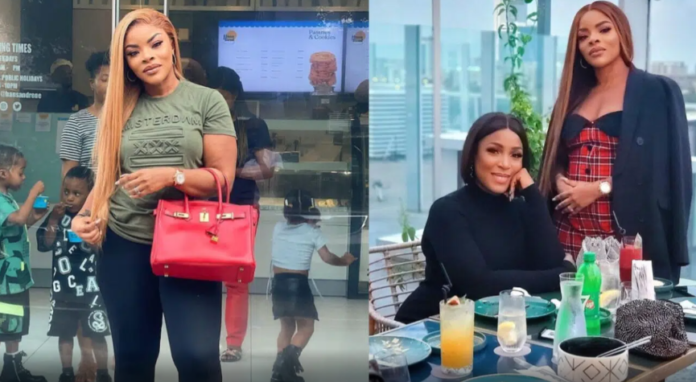 Laura Ikeji blasted by fans for bragging about her family's wealth
Laura Ikeji has come under fire for bragging about her family's wealth.
Laura Ikeji had shared a video of herself and her billionaire elder sister, Linda Ikeji, living their best life, bragging about how they got their money through hard work.
Taking a swipe at their haters, she told them to run it, if it's that easy.
"Two women with their OWN MONEY. Gotten from hardwork only if e easy run am".
Fans who weren't pleased with her show-off slammed her for it.
"Be humble dear sister; many young women have money, still no noise".
Another fan concurred with her; she noted how wealthy people don't make noise about it.
zennywinny: Exactly, she too talk. Who really get money no dey advertise.
Lashing at them, Laura dared them to run it if it's easy.
"Run am! I dare I to run am if e easy".
TSB News recalls Laura Ikeji had reacted after Nollywood actress Caroline Danjuma accused her sister, Linda Ikeji, of being responsible for her crashed marriage.
Caroline Danjuma had blamed the celebrity blogger for partially wrecking her marriage to a billionaire, Musa Danjuma, with her malicious blog posts.
In a face-off with Laura Ikeji during the Real Housewives of Lagos reality show, Caroline spilled on how Linda had a role in her divorce.
Linda Ikeji, in an attempt to redeem her image, shared screenshots and proofs to debunk her claims.
Linda pointed out how Caroline always blames people for the demise of her marriage. Read more here.
Backing up her sister's claim, Laura Ikeji said she felt bad about Linda's statement refuting Carolyn's claim.
Laura said she would have told everyone the truth but didn't want to escalate everything.
The mother of two said she knew Carolyn was off through the night but didn't want to talk back, not because she couldn't defend her family but considering children are involved.
TSB News also recalls Laura Ikeji had criticized her billionaire sister and blogger Linda as she lavished millions on Hermes bags.
In a post shared on her Instagram page, Laura Ikeji revealed her sister Linda had bought 19 Hermes bags in a few months.
Laura Ikeji called on her fans and followers to tell her sister Linda to stop her consistent bag acquisition.
She wrote: Someone tells my sister to stop! Haba, 19 Hermes in how many months Kai".