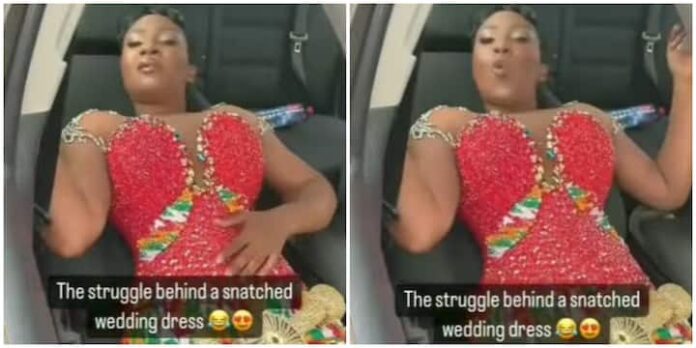 Watch video of bride in fitted corset dress unable to sit up
A video is currently trending on social media as it captures a bride on her traditional wedding day.
The beautiful lady who sported a corset bodice dress is seen lying down inside a car as the outfit restricts her from sitting up In a similar story, Ghanaian movie star, Kalsoume Sinare, got social media users buzzing with reactions over an outfit she recently wore.
Looking good is good business, but as is the case with almost everything, there are downsides to keeping things glam. A bride recently left internet users amused after she was captured lying down inside a car due to the fitting of her dress.
As is the case with most Ghanaian weddings these days, the bride sported a red bedazzled corset dress which appeared to hug her torso tightly.
It appears that because of the corset, she could not sit upright inside the car.