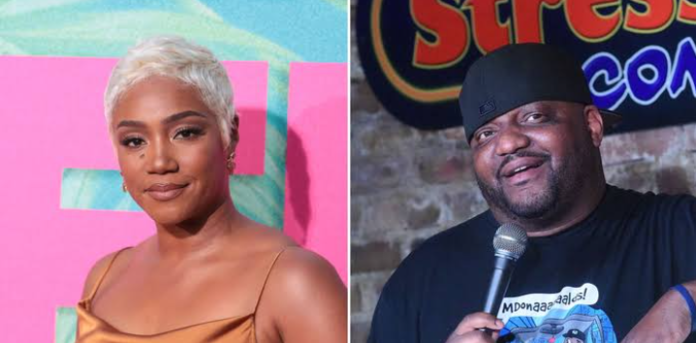 Comedians Tiffany Haddish and Aries Spears accused Of Child S3xual Abuse
Comedians Tiffany Haddish and Aries Spears are being sued by a woman who alleges that the two comedians forced her and her brother separately to perform inappropriate, s3xually suggestive acts on camera for sketches when the siblings were underage.
Haddish is also accused of negligent supervision/failure to warn, breach of fiduciary duty, and constructive fraud.
The complaint, which was first reported by the Daily Beast, centers on two alleged incidents: one when the plaintiff, identified by the pseudonym Jane Doe, was 14, and one when her brother, identified by the pseudonym John Doe, was 7. John is now 14, and Jane is his legal guardian.
According to the complaint, Haddish and Spears had Jane watch a video in which an older man and a college-age woman shared a sandwich in "a manner that simulated the act of fellatio" while "moaning and making segxwal noises." Spears then allegedly told Jane "to mimic what she had seen on the screen, including the noises precisely like what she heard throughout the video."
Jane was "nervous and disgusted," the complaint says, and then "Haddish verbally explained what was expected of Plaintiff Jane Doe and then showed Plaintiff Jane Doe how to give fellatio, including movements, noises, moaning, and groaning." Jane says she did as Haddish and Spears asked, was paid $100, and did not disclose to her mother what had happened at the time.
The lawsuit goes on to claim that Haddish recruited John a year later for another video, which was eventually posted on the website Funny or Die under the title "Through a Pedophile's Eyes." The complaint alleges that the shoot took place in Spears' home and both siblings attended, though Jane was told to stay downstairs while John was filmed upstairs.
According to the complaint, Spears played a pedophile in the video, which included scenes of him massaging baby oil onto John's back and smoking a cigarette while watching the boy Nood in the bathtub, among other segxwally suggestive acts.
The lawsuit claims that after the shoot ended, "Mr. Doe called his mother crying, saying he did not want to film anymore."
Representatives of Haddish and Spears have denied the claim.