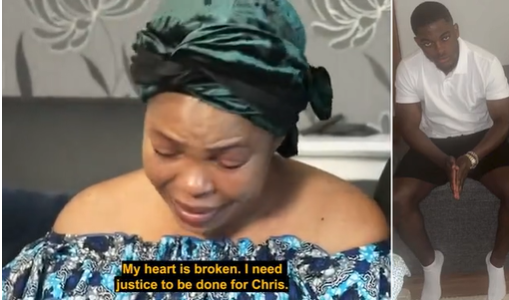 Crying mother accuses police of 'racism' after her unarmed rapper son, Chris Kaba was shot dead by officers

The tearful mother of an unarmed father-to-be shot dead by police has called for those responsible to face criminal charges, describing it as 'racist', TSB News reports.
Chris Kaba, 24, who was due to become a father within months, died after a car chase that ended in Streatham Hill, south London, on Monday night.
Police watchdog the IOPC say the pursuit was sparked when the vehicle number plates triggered an alert that it had been used in a firearms incident.
Mr Kaba's mother Helen sobbed as she said: 'My heart is broken. I am speechless. My heart is broken.
'Police have taken Chris from me, I don't know how to say, but I need justice to be done for Chris. This is very racist, it's no good.
'I need justice to be done, criminal justice to be done.'
Prosper Kaba, his father, added to BBC News: 'No-one can give any justification on why the police act.
'For us it's totally racist and criminal.'
Rapper Mr Kaba's Audi was hemmed in by two police cars in narrow residential street Kirkstall Gardens before one round was fired from a police weapon.
Police officers administered CPR immediately at the scene and Mr Kaba was taken to hospital where he died later in the night, the Independent Office for Police Conduct (IOPC) confirmed.
The watchdog said it was understood that police had tried to stop him after the activation of an automatic numberplate recognition camera, indicating the car he was driving was linked to a firearms incident in the previous days.
However no firearms were found in his car or at the scene following a search on Tuesday night.