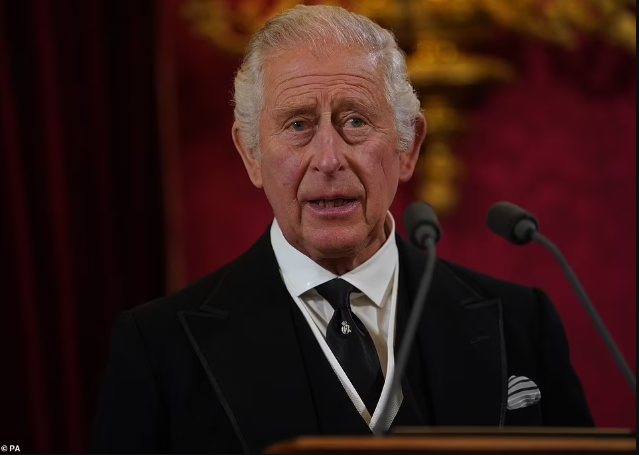 King Charles III is proclaimed as UK monarch (photos)
King Charles III has been formally proclaimed new sovereign following the death of his mother, Queen Elizabeth II.
During the ceremony in London this morning, he made a personal declaration on the death of his beloved mother Queen Elizabeth II and vowed to uphold 'constitutional government and to seek the peace, harmony and prosperity of the peoples of these islands, and of the Commonwealth realms and territories throughout the world.'
Charles automatically became Sovereign on the death of his mother aged 96 at Balmoral Castle on Thursday afternoon, but the Accession Council, an ancient body of advisers that dates back as far as the time of the Norman Conquest, formally announced his role as Head of State today.
At 11am, trumpets then blared from the balcony of St James's Palace as the Principal Proclamation announcing the King was read out. Crowds gathered outside the palace as the King was officially proclaimed Sovereign of the United Kingdom of Great Britain and Northern Ireland, including Supreme Head of the Church of England and Commander-in-Chief of Britain's Armed Forces, as well as Head of State of the Commonwealth and British territories around the world.
On a balcony above Friary Court in St James's, David White – an official known as the Garter King of Arms – read the proclamation. He ended by saying: 'Given at St James's Palace this 10th day of September in year of our Lord 2022.' In the moments after, 'God save the King' was shouted out.
Paying tribute to the Queen at the throne room of St James's before the assembled Accession Council shortly after 10.20am, the King also approved an order that the day of the Queen's funeral will be a bank holiday.
Making his declaration, Charles III said: 'My lords, ladies and gentlemen, it is my most sorrowful duty to announce to you the death of my beloved mother the Queen. I know how deeply you, the entire nation, and I think I may say the whole world, sympathise with me in the irreparable loss we've all suffered.