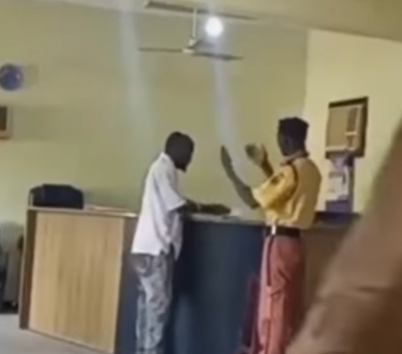 LAUTECH reacts to claim graduate seeks refund on tuition over unemployment
The management of Ladoke Akintola University (LAUTECH) has reacted to a viral video showing an irate individual making a scene where many claimed to be the institution's premises.
In the footage which surfaced on social media on Tuesday, the young man could be seen with a brown file throwing tantrum before an official seated behind what appeared to be a reception counter.
Although the video didn't have much context, there were speculations that the individual was a LAUTECH graduate seeking a refund on his degree tuition due to unemployment.
It was gathered that the visibly enraged man sought to return his degree certificate to LAUTECH, citing that he was suffering.
"I'm suffering, give me my money. I'm suffering," the purported graduate could be heard screaming in Yoruba.
It is not immediately clear what led to the conflict.
When newsmen contacted Azeem Ige, LAUTECH's dean of student affairs, the official did not volunteer details on the matter.
Subsequent calls and texts to the dean were not answered.
But when contacted, Fadeyi Lekan, the current spokesperson of the institution, told newsmen that he was away on a trip outside the state.
He added that other university officials he had contacted over the issue denied the incident happened.
"It's only right that I speak on what I'm able to confirm. I called people in my office and they denied it. I'm in Abuja now. Only if I get back to Ogbomosho would I be able to do an investigation and confirm," Lekan said.
"I saw the video. I couldn't identify a single person in it, else I would have reached out to hear from them directly."