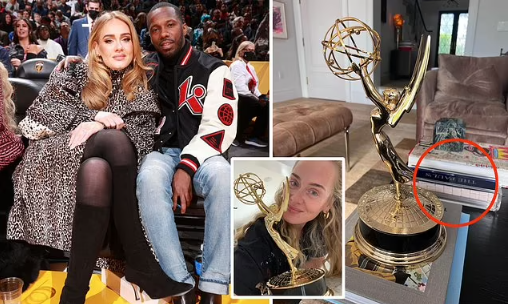 Rumour has it that Adele might be married to Rich Paul
In a snap of the gong sitting on her coffee table a personalised game with the label 'The Paul's' could be seen, prompting a flurry of comments 
Fans are speculating that Adele may have secretly wed her boyfriend Rich Paul after spotting a telling clue in the singer's latest Instagram post.
The singer shared photos from her Los Angeles home on Sunday as she celebrated her first Emmy win for her TV concert, Adele: One Night Only.
In a snap of the gong sitting on her coffee table, a personalised game with the label 'The Paul's' could be seen, prompting a flurry of comments from excited fans guessing the secretive star has married her partner of a year.
The game, which appears to be a set of dominoes or Rummikub tiles, had 'The Paul's' clearly written on the side, leading one of the star's 50.8million followers to ask 'is you married?' in the comments.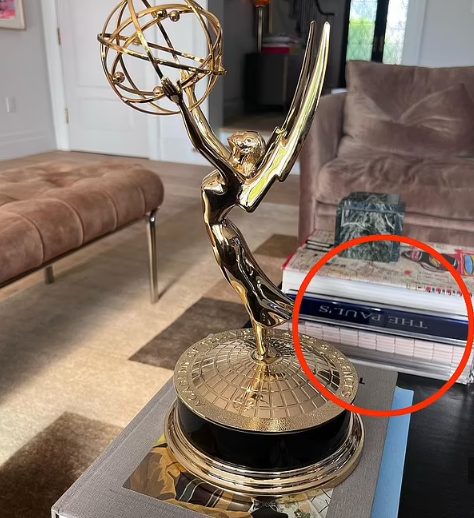 'I can't tell if I'm more excited by it or upset at the bad punctuation,' quipped another.
The superstar and the multi-millionaire agent first met at a party a few years ago, and took their relationship public in the summer of 2021.
The musician was previously wed to charity entrepreneur Simon Konecki, the father of her nine-year-old son Angelo, marrying in 2018 and separating the same year.
In an interview last month with ELLE UK, Adele responded to rumours she was engaged, quipping she 'might as well be married.'
'I've never been in love like this,' she gushed. 'I'm obsessed with him. I definitely want more kids.
She coyly added: 'Well! Well. Well, I'm not married' when asked if the ring she's been wearing recently is an engagement diamond.
'I'm just in loooove! I'm happy as I'll ever be. I might as well be married,' later confessing of her huge ring: 'I'm not engaged. I just love high-end jewellery, boy!'