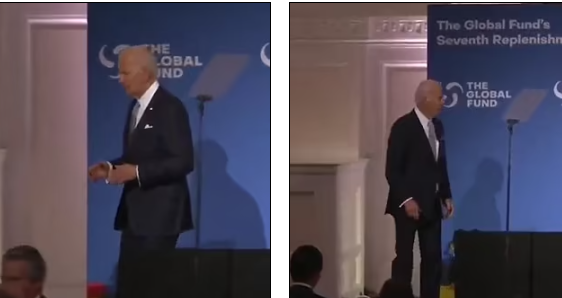 Sad video shows Biden, 79, appearing to get lost while walking off stage and asking crowd how to leave after UN speech
Joe Biden, 79, faced yet another public embarrassment Wednesday evening when he appeared to get lost while walking off stage following his remarks at the Global Fund Conference, TSB News reports.
As applause ensued, the U.S. president began walking off the stage before abruptly stopping in his tracks and looking around with an appearance of confusion on his face.
He then seemed to ask people on the ground how to get off stage and did a few stuttering steps.
Texas Senator Ted Cruz called the scene 'terrifying,' on Twitter, with his communications adviser Steve Guest adding in own own tweet: 'Joe Biden is completely lost on stage. Scary and sad.'
A man came to the microphone at the event to say: 'Uh, Mr. President, thank you,' as he wandered around the stage.
This caused further confusion on the part of the president who slowly inched his way off stage, stopping every few steps to look back at the speaker thanking him for his leadership and remarks.
The clip of the awkward side-steps went viral on social media as another example of doubt regarding Biden's physical and mental fitness for the presidency. On Sunday during his 60 Minutes interview, Biden shot down suggestions he was too old or unfit to run again in 2024 – and said 'watch me'.