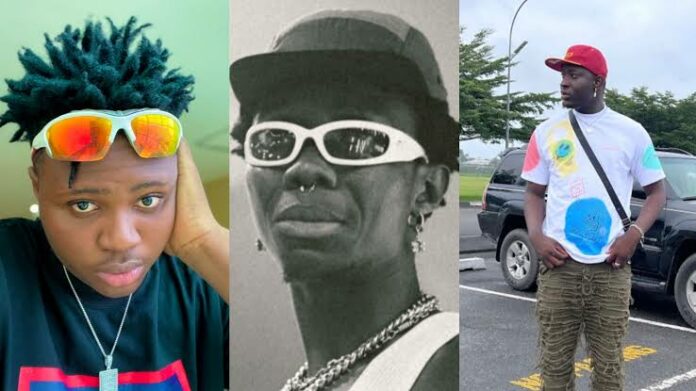 'You didn't write Machala but want 95%' — Blaqbonez hits Carter Efe
Blaqbonez, the Nigerian rapper, has weighed into the ownership saga trailing 'Machala', the hit song by Carter Efe, the skit maker, and Berri Tiga.
'Machala', which is dedicated to Wizkid, has become a viral sensation on social media platforms.
The controversy between Efe and Tiga started recently over who actually owned the song.
Efe had claimed he inspired the song, with Tiga arguing that "I wrote and sang it 100%".
Tiga had also claimed the skit maker initially offered him a 95-5 per cent deal despite being the brain behind the project.
In a series of tweets, Blaqbonez called out Efe for offering such a deal to the artiste.
"You no write song, you no produce beat but you want 95%. Wow. Forget music business, forget 'I dey help you' common human decency tells u that u should favor the creative! The one that brought the music out of thin air," he wrote.
u no write song, u no produce beat but u want 95%. wow

— Emeka The Stallion 🐎 (@BlaqBonez) September 16, 2022
"Without promoter song fit blow, without the creative the song won't exist!"
In his response, Efe tackled the rapper for always "opposing" him. The skit maker also accused Blaqbonez of jealousy.
Efe dismissed Tiga's allegation that he offered him five per cent of proceeds from the song.
"Blaqbonez I know you've hated me from day one, if you're jealous just say it. Ok, and also before open your mouth to talk rubbish check for facts Egbon. Don't act like a baby, because nobody offered anybody 5% Don't hate just take note," he replied.
Blaqbonez fired back at Efe, saying "I have always hated you".
"No lie, I've always hated you. u not funny, you made a brand off riding dick, your whole comedy career is either dance naked or mention wizkid," he added.
"Look around everyone's building they own legacy, u out here being stupid for someone who don't give a f*ck about u!"
no lie, I've always hated you. u not funny, you made a brand off riding dick, your whole comedy career is either dance naked or mention wizkid. Look around everyone's building they OWN legacy, u out here being stupid for someone who don't give a fuck about u ! https://t.co/pSCSzZdfk8

— Emeka The Stallion 🐎 (@BlaqBonez) September 17, 2022
Seeeeeeee fool😂😂😂😂😂😂😂😂😂Remember say na buju give you your hit song ooooo!
Try rap make he enter No 1!!!
Naked comedian way get Number one song for Nigeria with an upcoming artist https://t.co/b8upYg7EOr

— carterefe🖤🦅 (@carterefe__) September 17, 2022
Your last song go home really went home Werey😂💔

— carterefe🖤🦅 (@carterefe__) September 17, 2022
LOL
This is an insult to the comedy industry because your full career was built on comedy
You've never for once drop a song without fooling yourself online 😂
With your hanger way you carry for nose as Nose ring 👃
HABA HABA HABA try Blow like your colleagues 🐐

— carterefe🖤🦅 (@carterefe__) September 17, 2022