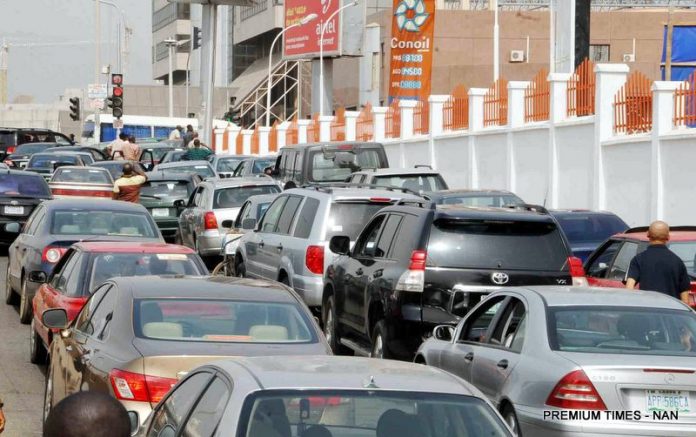 Residents groan as petrol queues resurface in Lagos
Queues for petrol have resurfaced at filling stations in Lagos, causing hardship for residents and motorists trying to get the product.
On Wednesday morning, newsmen witnessed long queues at filling stations along Onipanu bus stop, Ishefun road, Bolade area of Oshodi, and Marina, Lagos Island.
The development comes a month after the city and other parts of the country experienced petrol scarcity.
Kazeem Ibiyemi, a resident of Ayobo, Lagos, told newsmen that he bought petrol for N250 per litre at Badek petrol station.
Ibiyemi said he had tried to buy the product from the NNPC filling station in the area, but gave up because of the long queue.
Afeez Oladeji, a commuter, said commercial buses had hiked fares due to the situation, explaining that he had to pay an exorbitant bus fare of N700 from Agege to Oshodi.
Meanwhile, at a Total filling station in Ikeja, a long queue caused traffic gridlock as of the time of filing this report.
There were also long queues at Bovas, Mobil, and NNPC filling stations in Ojodu Berger.
Conoil filling station in Alagomeji, and Sabo were faced with a huge crowd of cars, and people lining up for petrol.
In a phone interview with newsmen, Mike Osatuyi, national operations controller of the Independent Petroleum Marketers Association of Nigeria (IPMAN), said the situation was caused by limited availability of the product.
"We don't have fuel. If there is fuel, then we have something to sell. The little that's available, we are buying at N205. When you add up transport, that's about N213 before you can add your profit. That's the truth," Osatuyi said.
"Even if you want to buy at N205 now, you won't even see to buy.
"NNPC said the fuel is available but we don't see it. If we are able to see the fuel, that's the only way we can confirm that the product is available. Let's wait and see for the next few days."