Salt Bae sparks fury after bragging about customer's £140,584 bill at his Abu Dhabi restaurant
Salt Bae has been slammed on social media after bragging about a customer's bill that came to a staggering £140,584 – with a single steak priced at £1,030.
The Turkish millionaire restaurateur, known for his gold leaf steaks and signature salt-sprinkling pose, was rebuked on Instagram by commenters calling the price 'insane' and 'all ego'.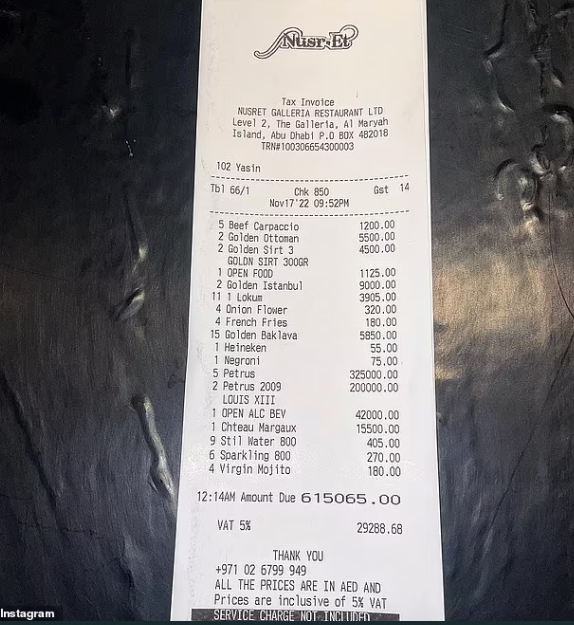 The eye-watering bill was from Salt Bae's restaurant Nusr-Et Steakhouse in Abu Dhabi, with 14 guests paying out 615,065 dirham (£140,584), meaning it cost 43,933 dirham (£10,041) per person.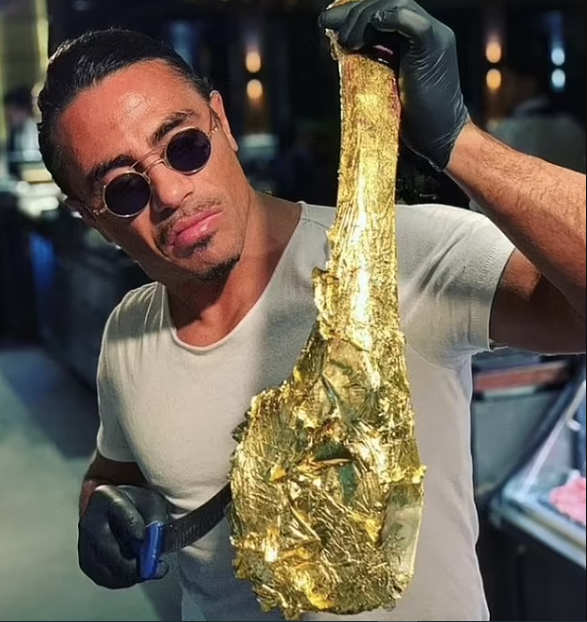 Salt Bae, whose real name is Nusret Gökçe, charged an astonishing 9,000 dirham (£2,059) for two gold-leaf covered Istanbul steaks.
It is not known who the astronomical tab belonged to. But a number of high-profile people are currently visiting Abu Dhabi with the Formula 1 starting on Friday, November 18, and neighbour Qatar hosting the Fifa World Cup which starts on Sunday, November 20.
Salt Bae posted the picture of the bill to Instagram, and his 49million followers, with the caption: 'Quality never expensive #saltbae #saltlife #salt.'
Shortly after, Salt Bae received a barrage of criticism from other social media users, with more than 597,000 likes, and 26,500 comments, many of them disgusted by the bill.
One user wrote: 'This is lame, that amount of money will help a whole village from dying. This is horrible.'
Many users were completely shocked by the price and called the total 'insane'.
Another user said: 'There are about 98 million people below the poverty line, homeless, and you are spreading lies?!!! what is the purpose behind publishing such things? I will unfollow you and I hope so from everyone to do the same … shame on you.'
Another wrote: '55 bucks for a Heineken just so u can ruin the meal with gold leaf and drop salt through your hairy arms.'